Posted by
Kristen
on April 28, 2015
Are you struggling to find ways to deal with your student loans?
We highlighted several ways that you can get rid of your federal student loans without paying them all off yourself in How to Get Rid of Your Student Loans (Without Paying Them Off).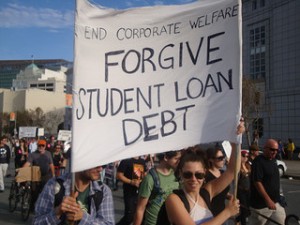 (Photo Credit: jjinsf94115)
How to Get Your Student Loans Forgiven
If you are still struggling, you might want to consider some of these options to get a portion of your loans forgiven.
Volunteer or Military
There are volunteer organizations that offer partial loan forgiveness. Keep in mind that there is a set amount they can offer, and you will need to serve for a set amount of time and hours. Here are a few options:
Choose a Job to Help Pay Your Loans
Depending on your field and your skills, you may be able to apply for a job that offers partial student loan forgiveness. These positions offer this loan forgiveness because they may be trying to bring in health care professionals, teachers, and more to areas that have a low population or low economic status. Many of these positions require you work for a set amount of years or you will have to pay back the money they awarded you. For more information, visit FinAid.org's loan forgiveness website. Here are a handful of professions that may offer a type of loan forgiveness:
Teachers serving low income schools or schools that have a shortage on teachers
Lawyers who serve in public interest or non-profit positions
Nurses who practice a set number of years in an area that lacks medical care
Physicians who practice a set number of years in an area that lacks medical care
Occupational and physical therapists
Veterinarians who work in an area that there is a shortage
Move to Place that Helps Pay Your Loans
In an effort to bring young, college educated people to their area, there are cities, states, and regions that will offer to help pay down some of your student loans. Here are four places that will pay a portion of your student loans:
These programs have specific requirements as to the type of school you attended, your employment status and salary, the field of your job, where you live, the type and amount of your student loans, and how long you stay in the area. Before you make any big decision on where to move, be sure to fully understand the ins and outs of the program as well as the area you're settling down in.
Tips for Exploring Student Loan Forgiveness
Read the fine print. Many times, there is a specific agreement for student loan forgiveness. If you breach this agreement, you may have to forget about any student loan forgiveness and may even be subject to a fine. For example, a job may require you to work there for a set amount of time for a set amount of hours. If you are moving to a location that is reimbursing your student loans, you may have to live in a specific area for a specific amount of time.
Consider the costs. If it's going to cost you a large amount of money to move across the country, it may make more sense just to stay put. The same is true if you can land a higher paying job in your current location as well.
Do your homework. Whatever organization or program you are considering, do a lot of research to fully understand what is involved and how it works. Ask questions to a professional that could help you understand how it works.
Reach out to your college's financial aid department. You can speak with a counselor about student loan forgiveness options.
Have you had any experience with any of these student loan forgiveness programs? Would you ever do something like this to cope with student loans? How are you paying them back?
More on Student Loans
---

You can get my latest articles full of
valuable tips
and other information delivered directly to your email for
free
simply by entering your email address below. Your address will never be sold or used for spam and you can unsubscribe at any time.