Posted by
Kristen
on August 12, 2014
The first summer after high school and on your way to college is definitely one to remember. You can look back at your high school years – either fondly or just happy to be done with them, while also being excited about college and everything that lies ahead. While you've probably focused on having a fun summer and spending time with friends and family that you might be leaving come fall, there are also some last minute things you should be squeeze in this summer to help your newly independent finances.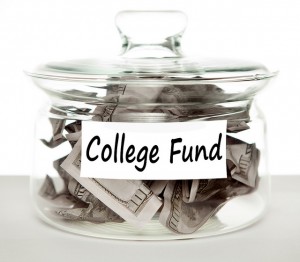 Photo by: Tax Credits
Summer Checklist for the College Bound
Here are some productive financial steps to take this summer before heading away to college:
Start applying for jobs on your campus.
There will be a rush of applicants applying for jobs around campus once fall hits. If you can, depending on the location of your college, head out a few weeks earlier or reach out online to apply for positions. If you're living at home, you can start applying for part-time jobs immediately.
Build a budget.
Regardless of how much money you have, you'll want to prepare a budget you can stick to. Whether you'll be totally on your own with money or getting help from a parent, you'll need to create a budget. Even if you are using student loans to fund your education and living expenses, you'll need to stick to a budget so you're not blowing through your student loan money the first month and left with nothing or having to borrow even more money.

It's simple. Start with what money you'll have each month including saved money, any income, and any loans you're taking out for living expenses. Next subtract your expenses — tuition and fees, books and supplies, any transportation costs, cost of a dorm or rent, any utilities you'll have to pay, food, any bills you might have, entertainment, extra items, and whatever else you're spending on. Whether it's finding a way to earn more, cutting the price of expenses, or both, you'll need to find a way to make this budget balance.

Sell your unwanted stuff.
As you're packing all of your belongings to take to college, now is the time to get rid of all your clutter. If you're living in dorms, your space is limited. But even if you're staying at home, it's good to start off clean, organized, and getting rid of items you don't use anymore. Plus, it's the perfect way to get extra cash. Sell your old high school textbooks on Amazon, and sell your clothes to a consignment or second hand store.
Get a recommendation from your summer job.
If you are a good worker, your employer from your summer job can be a possible recommendation for you down the road. Plus, it's a good way to start building up your resume and experience for when it comes time to start thinking about internships and future jobs. Ask your employer for a recommendation or keep their contact information in case you need it in the future.
Make a game plan for what you'll need.
You're probably going to have a list of things you'll need before starting school, especially if you're moving out of your house on campus. Once you make your list, find out what you already have on hand. Next, depending on what is on your list, sign up for e-mail alerts at stores to get coupons and hear about deals. The best part about starting now is you can research what has the best deal.
Apply for scholarships.
If you haven't already, start applying for scholarships now. If you have been applying and you haven't had much luck, keep trying! Every year, thousands of unclaimed scholarship money goes to waste. Even a small amount can help alleviate some of the financial burden of student loans. Look for scholarship opportunities in your community, your city and state organizations, religious affiliations, at the college you're attending in fall, and organizations of the course of study you're planning on taking.
Take a class in your community.
Get ahead of the game by knocking out a class at your community college this summer. Chances are your freshman year you'll be taking many general education requirements. Odd are, the class is going to be a lot cheaper at your local community college than wherever you're headed in fall. Make the most of your summer by knocking out a class. If it's too late to enroll in a summer class in your area, consider it again next summer.
Make an appointment with an advisor.
Meet with your advisor right off the bat to plan your course load. He or she will be able to help make sure you are taking the right classes you need to graduate. Trying to decipher requirements can be difficult from just looking online and they can change frequently, and enrolling in an unnecessary class can be a waste of your money and time and stall you from graduating sooner.
Research your major.
Changing your major in college is not uncommon, and it's not a bad thing. However, it can mean extra semesters, taking additional classes, and living on campus longer which will mean a lot more money. You shouldn't stick with something that you decide isn't for you, but you can hedge your bet by not jumping into a major immediately. Take some time during the last few weeks this summer to shadow someone in the profession you're thinking about doing so you can really get a feel for what that job is like. If you're deciding between a few things, shadow both professionals. Research what that job is like and what it takes to study it in college. Reach out to your college to put you in touch with faculty from that department, recent graduates, or even current students. You can talk with them about their experience with that field of study. Consider talking with a career counselor at your college now so you can also decide if your major is right for you.
What should college bound recent grads do to prepare for their first semester of college? What are your best financial tips for students who are heading to college this fall?
More Ways to Save for College Students
---

You can get my latest articles full of
valuable tips
and other information delivered directly to your email for
free
simply by entering your email address below. Your address will never be sold or used for spam and you can unsubscribe at any time.