Posted by
Kristen
on June 12, 2013
This is the time of year when the semester is over for college students, and they begin looking for a summer, seasonal position. Grabbing a seasonal position while you're not taking classes is a great idea. You can save up to avoid student loans for next semester, earn money for books and other supplies, and pay your bills. If you're saving for next year, dealing with debt you may have accrued during the previous school year, or simply need the money to pay rent and bills, finding a summer job can be competitive so start now.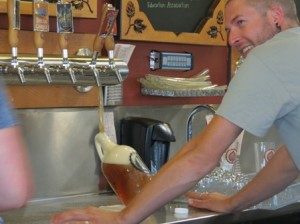 Photo Courtesy: Kristen
Benefits of Summer Jobs for College Students
There are actually a lot of benefits to grabbing a summer job as opposed to just laying around waiting for your next semester to start. Here are the benefits of getting a summer job:
Money, of course. The first and most obvious reason to get a summer job is to earn money. Pay your bills, pay down student loans or credit card debt, save up for next semester when you may not be able to find a job, or save towards your tuition.
Make connections at work. Regardless of the field, you'll be able to meet a variety of people, whether it's co-workers or customers. These contacts are great to start networking to lead to an internship or possibly a position after you graduate. So be sure to act professional while you're working, and try to network as much as possible.
Build up your resume. Even if it's not doing exactly what you are planning on doing after graduation, you can spin your summer job experience into applicable experience for future internship opportunities or positions in your field down the road.
Get recommendations from your employer. Despite being a seasonal job, your direct boss and employer can be a great resource for a letter of recommendation. Keep this goal in mind while working so you can demonstrate your excellent skills, and give them a reason to write you a recommendation letter. When you're nearing an end to your employment, you can ask them to write you a letter of recommendation. You can use this letter to apply for scholarships, to land an internship position or a job down the road, or even apply to graduate school if that's in your future.
Enjoy the perks. I can speak from personal experience that the image of the broke kid, for some, is actually pretty much on point. So besides the money and other benefits, you can enjoy the perks that come from your summer job. If you're working as a server or barista, those free coffees and occasional meals can help out your budget and help you save money on food in college. If you're working at a ball park or amusement park, you may be able to enjoy free access while you're off work.
Where to Search for Summer Jobs
It can be daunting trying to search for a summer job since time is a factor, and there might be a decent amount of competition. Here are some ideas for summer jobs and where to look to earn cash over summer break:
Simply stop in to places with a resume, and ask if they are hiring. You can also call as well.
U.S. Department of Labor's website, MySkillsMyFuture.org
Check bulletin boards around your college for postings about jobs. Many employers that are looking for seasonal employees will post around a college since they know that's a popular time when college students look for a job.
Check with your college's career or employment center since they may offer summer positions themselves or guide you to places that are hiring. Since a lot of people go home for the summer or don't take classes over summer, there may be positions opening up at your school. This is also a great idea because it has the possibility of leading to a job throughout the school year as well. If you qualify for Federal Work Study at your college, be sure to put that on your job application while applying at your school since that can increase your benefits of getting the position.
Interested in the outdoors? Check out the U.S. Department of Interior's YouthGo.gov for available positions.
If you have child care experience, you can apply to be a nanny or babysitter. You might find opportunities on Craigslist, asking your neighbors, friends, and family, or filling out a profile with websites like SitterCity.com or Care.com. Since kids are off school for the summer, this could lead to a full-time summer job as well.
Search for federal jobs specifically geared towards college students and recent graduates by visiting USAjobs.gov.
Ask family and friends if they know of any positions for summer jobs and ask if they can ask around for positions.
Look for a job where you can Get Paid to Travel.
You can even post on Facebook or Twitter to ask if anyone knows of anyone hiring in your area for a summer position.
Check Craigslist for summer positions, part-time work, or other types of temporary or freelance work.
Try to tutor children, especially in subjects you do well with. To find a tutor job, you can search career search websites or tutoring sites like, WyzAnt.com. Also post to Facebook, Twitter, and let your family, friends, and neighbors know that you are looking to tutor children for the summer.
Look around your community for flyers and postings.
Check out your city's park districts. Many programs are going on during the summer, and may require additional help.
Apply to be a camp counselor at a local park district or nearby camp.
Look specifically for places that are only open during the summer months, or become increasingly popular during summer months, since they generally only offer seasonal employment and might need the help. This would be places like boat or other water rental places, amusement parks, landscaping businesses, tourist attractions, dinner cruises, outdoor bars or restaurants, golf courses, beaches, bike tours or bike rental facilities, stores that carry seasonal merchandise, such as a pool store, and much more.
What are great ideas for summer jobs for college students? Where can they look to find a great summer job?
More on College and Money
---

You can get my latest articles full of
valuable tips
and other information delivered directly to your email for
free
simply by entering your email address below. Your address will never be sold or used for spam and you can unsubscribe at any time.