Posted by
Kristen
on March 13, 2014
The best part about celebrating an ethnic holiday is to embrace the specific culture and traditions that go along with it. My personal favorite part about exploring a new culture and celebrating an ethnic holiday is cooking and eating the new foods that go along with it. Since St. Patrick's Day is around the corner, it's a great time to explore some popular Irish ingredients and dishes. Besides being unique and delicious, one of the best things about Irish cuisine, is that many of the ingredients and dishes are inexpensive and a great way to save money on food. Here are some affordable St. Patrick Day recipes and ingredients.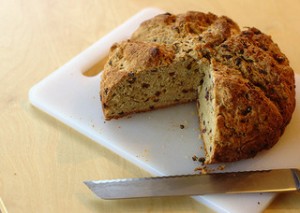 Photo Credit: mccun934
Potatoes
An Irish staple, potatoes are quite a budget-friendly ingredient. If you cook with potatoes often, you may be better off buying it in bulk to save money. Compare the cost at your grocery store. Depending on the type of potato you prefer, there is probably an efficient way to be storing it so look into it to keep your potatoes at the freshest. Here are some Irish ideas you can do with potatoes:
Mashed potatoes: Since most mashed potato recipes call for a small amount of butter, milk or cream, and salt, it is a relatively simple and cheap Irish dish. Leave the skins on to add even more flavor and weight to your dish. Plus, the skins hold a lot of the vitamins and added health benefits. To make it different than your usual mashed potato recipe, you can mix in shredded Irish cheddar cheese while you're mashing it. Add in cooked, chopped Irish bacon right before serving. Green onions give a pop of color and a nice crunch. Sour cream is a nice, creamy addition.
Boxty: Potatoes are used to make the delicious boxty, which is similar to a potato pancake and a popular Irish food. The recipe may consist of flour, buttermilk, eggs, and baking soda. Once you find your recipe, you can eat these alone or fill it or top it with whatever you'd like. Eat it plain or with a touch of sour cream. You can also wrap leftover corned beef and cabbage into a boxty. Add sliced ham and swiss cheese.
Roasted potatoes: Wash and chop potatoes in small pieces or in the shape of a french fry. Mix in chopped onion or garlic, and toss with a touch of olive oil or another cooking oil. Season with salt and pepper. Roast them in the oven over a low heat. You can also add other seasonings like onion powder, paprika, garlic powder, dill, cumin, or whatever else you think goes well together. These potatoes make a great side for meal, a snack, or for breakfast in place of hash browns.
Baked potato: A quick, simple option is always the baked potato. Top with cheddar cheese, bacon, and scallions to give it an Irish touch.
Colcannon: This unique Irish dish combines mashed potatoes with cooked kale or cabbage, fresh parsley, and leeks, scallions or chives. Opt for the ingredients that are on sale or cheaper.
Beef Stew
One budget-friendly thing about beef stew is that you can use a less expensive meat for the recipe. Since it is generally slow cooked for many hours, often in a crock pot, a fattier, cheaper cut of meat will get tender. There are so many variations on what a beef stew recipe can consist of, so choose ingredients that are the most affordable to you – whether they are on sale in your grocery store or available at a nearby farmer's market. You can add onions, carrots, parsnips, celery, and potatoes – all of which are inexpensive. To save more money, avoid the convenience of prewashed, precut carrots or other vegetables. You can also find recipes that include fresh parsley or Guinness.
Cabbage
Cabbage is a super inexpensive ingredient that is filled with vitamins and flavor. Often, cabbage is served aside corned beef to celebrate the Irish holiday. While that is a great duo, there are plenty of other ways to use cabbage. Sautee cabbage with onions as a side dish. Cook cabbage in chicken broth along with other seasonings to a make a meat-free soup. Add cabbage in your Irish beef stew. Toss chopped cabbage with your favorite dressing for a slaw to eat as a side dish or on top of your sandwiches. Use your leftover corned beef along with cabbage for a corned beef hash over scrambled eggs for breakfast. Frying bacon and cabbage together is another traditional Irish dish.
Shepherd Pie
Shepherd's pie is a hearty, savory dish that is popular in the Irish culture. Best of all, this is an inexpensive way to feed your entire family or to serve at a St. Patrick's Day party. The top layer of the dish is a thick layer of creamy mashed potatoes. Underneath, there is a layer of meat, vegetables, seasonings, and a gravy. For the meat, you'll find recipes for both ground beef and ground lamb, so choose an option that is more affordable for you. The bottom layer can also include a variety of vegetables including onion, garlic, carrots, peas (frozen or fresh), and corn (frozen or fresh). It can also include a type of broth, tomato paste, and herbs such as rosemary and thyme.
If you're buying fresh herbs, research what is the best way to preserve and store these herbs so they last longer and stay at the best possible quality. If after comparing the fresh herb to the dried herb by the seasonings at the grocery store, if you find it is much cheaper, you can opt for the dried herb. In many cases, it will be cheaper simply because it is going to last far longer than that fresh herb. Most dried herbs will give you the amount you need to put in your dish in relation to the fresh herb. If not, look up what the recommended amount would be.
What are your favorite authentic Irish dishes that are also affordable? How do you save money while celebrating St. Patrick's Day?
More Ways to Save on Food
---

You can get my latest articles full of
valuable tips
and other information delivered directly to your email for
free
simply by entering your email address below. Your address will never be sold or used for spam and you can unsubscribe at any time.