Posted by
Madison
on September 26, 2017
Housing is a significant part of almost everyone's financial pie chart. The basic need for shelter can also wreak havoc on your budget if you aren't careful. Let's focus on ways to lower your housing costs to save some money!
Lower Your Housing Costs
When you want to save money, it makes sense to start at the top and determine where you're spending the most money.
Often, where you are spending the most money is also the best place to make some cuts.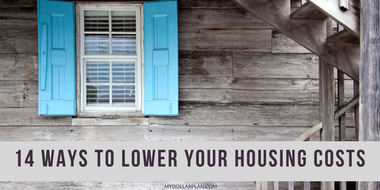 Trim Your Housing Costs
If you want to trim your housing budget, here are 14 places to look, ranging from simple to extreme, and everything in between:
Refinance. Have you refinanced to lock in a lower interest rate yet? We talk about it all the time, but there are still many of you who haven't gotten around to it. Whether it's a fixed rate or an ARM that makes sense, be sure that you are getting the best possible rate in today's low rate environment.
Negotiate your real estate taxes. After we bought our vacation home for $63,000 less than the assessed value, I took our numbers to the tax assessor and asked for a lower assessment. The result will be a lower real estate tax bill in the fall. If your assessment is higher than it should be, now is the time to work with the tax assessor on an adjustment. See How to Appeal Your Property Tax Assessment to get started.
Shop homeowners insurance. When was the last time you sent your homeowners insurance out for quotes? I routinely shop our insurance to make sure we're getting the best price. We switch homeowners insurance companies whenever we can get a better deal.
Get rid of PMI. Even though PMI is deductible, it's an avoidable cost. Call your lender to see if you qualify to have it removed.
Lowball. In the process of buying right now? Stop and read the reader tips for making lowball offers. We used these strategies on our last home purchase to get the house for almost 40% below list price.
Negotiate repairs and improvements. My neighbor told me about how she got her backsplash for almost 1/3 of the original price she was quoted. With a bit of time and effort, shopping around and comparing quotes is still a money saver.
Modify your mortgage. We did this a few years ago with Penfed. It's a new name for what used to be called a streamlined refinance. You pay a modification fee and get a lower interest rate without any requalification. We had originally applied for a refinance, and one of the processors mentioned it to me; we modified our rate without any hassle. Call your current lender to see if they have something similar. Note, that this is different than any hardship modifications and it doesn't have any adverse consequences, this is the bank giving you a lower interest rate without all the paperwork of a refinance.
Do something about homeowner dues. Are you on the board for the homeowners association? If not, chances are you didn't give input into your new homeowner dues for this year. Get on the board and get involved in the budgeting process for your neighborhood.
Rent part of your house. Or the whole thing, if you have somewhere else to live cheaper. Taking on a roommate can also help alleviate expenses. Airbnb has made turning your basement or spare bedroom into a rental to help offset your mortgage payment a widely accepted practice.
Move. If you've been through all the steps above, but your house is still sucking the money out of you, maybe it's time to downsize and move to a cheaper house. If you can't sell your house because of the mortgage, maybe you can work it out with the bank and list it as a short sale.
Optimize payments for taxes. Mortgage interest and property taxes are deductible in the year they are paid. This gives you some tax planning options to pay them in the year that will benefit you the most if you have variable income. Determine if you should accelerate your property tax deduction.
Checkout some extreme options. Do you really want to save money? Check out some extreme options like paying off your mortgage with a credit card!
Rent your house for 2 weeks. If you are near a big event that will draw in visitors for a long weekend, you can rent out your house tax free for two weeks.
Earn cash back on your property tax. You can pay your property tax with a credit card in many areas. Earning cash back on property taxes is a great way to make some extra money.
What other ways have you found to lower your housing costs?
More Ways to Save on Your Housing Costs
---

You can get my latest articles full of
valuable tips
and other information delivered directly to your email for
free
simply by entering your email address below. Your address will never be sold or used for spam and you can unsubscribe at any time.