Posted by
Kristen
on March 26, 2014
Decorating your home or apartment doesn't mean that you have to go broke doing it.
If you're creative and use a few helpful tricks, you can decorate your space with money to spare. Have fun with it.
Here are some helpful tips to decorate on a budget.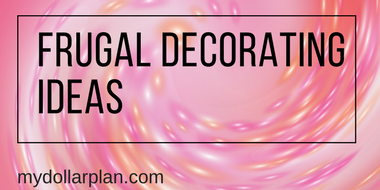 Budget Friendly Decorating Tips
Buy couch covers. Instead of purchasing an entire new sofa or love seat, consider buying couch covers instead that fit directly onto your existing couch. Whether a couch has a pattern you're sick of or spills from years of use, a couch cover can take care of it.
Avoid trendy patterns. When you do buy a couch, dining table, bed, or another large item, stick to a consistent, basic piece. Avoid something trendy or that you'll get easily sick of. Instead, buy something you can own for many years. Save those trendy patterns and colors for accent pieces like placemats for your dining table, pillows for your couch, and a throw on your bed.
Buy items you can return. Anytime you are purchasing something, whether it is something to hang on the wall or a vase for a bookshelf, understand the return policy and keep the receipt. While it may look great on the store shelf, you may change your mind once you actually see it in your place. You'd like to have the option to take it back for a full refund. Being able to return things allows you to experiment with different items without the risk of losing your money.
Use mirrors. Adding mirrors to your space is a great way to make your small apartment or small room in your home feel bigger.
Buy decorative and functional furniture. When you're purchasing furniture, think double duty. Having a functional piece of furniture that does the task of multiple pieces, can end up saving you money. For example, I just purchased a large bench that can double as a coffee table. An ottoman can have built in storage perfect for extra blankets.
Paint an accent wall. Painting one wall in a room is a simple, affordable way to add a pop of color to a room. Simply having one accent wall is a nice way to add that color without having to pay for all four walls to be painted.
Update accessories instead of furniture. Before buying new furniture, consider buying new accent pieces instead. Purchasing a colorful throw for a couch or new patterned pillows for a bed can improve the area without breaking the bank on expensive furniture.
Refinish existing furniture. Get inspired to create something new with the furniture you have. A coat of paint, a new finish, or new hardware on it can go a long way.
Give bookshelves a makeover. Adding wallpaper or contact paper to the back of a bookshelf gives it a pop of color, and it will make it look like an entirely different piece.
Update your hardware. Visit the hardware store to purchase new handles or knobs for kitchen cabinets or dresser drawers to give it a whole new look. It is a lot cheaper than buying new cabinets or a new dresser.
Check the dollar store. The dollar store is a great place to find little accents. On a recent trip, I found a vase ($1) and artificial bright yellow flowers for inside ($1). I also found a pale yellow glass jug ($1) and a decorative red plate to go on my counter ($1). You can also find kitchen towels, glassware, plates, etc.
Get creative. You don't only need to use actual décor items to make your space look good. In the kitchen, colorful gadgets such as spatulas and measuring cups, tea cups, or a cookie jar can all make for nice décor. Display your favorite wine glasses or other glassware.
Watch for deals. Keep your eye open for stores going out of business. You'll find the best deals on furniture during this time.
Shop sales. Sign up for e-mail alerts for stores you plan on shopping at for your merchandise. You may get offers for coupons, promotions, and learn about sales.
Negotiate. When buying furniture, don't be afraid to try to negotiate a bit. Depending on the store, they may be willing to offer you a deal. Anytime you're buying something off the floor, you can ask for a discount since it has been sat on or touched hundreds of times.
Use inspiration to find ways to use items you already own. Get inspiration from décor blogs online, Pinterest, home makeover shows on TV, and even by checking out books in the library. You may even realize you already have items on hand to make a nice change in your space. This inspiration can also lead you to discover gems in thrift stores or other places you can find used items.
Buy used. Shop at yard sales, garage sales, and second hand/consignment shops. You'll never know what items you'll find. Anytime you're purchasing something used, be sure to clean it properly and disinfect items. Items could have mold, bed bugs, and other not-so-pleasant items.
Go vertical. Utilize the entire space of the wall. Hang curtains to the ceiling instead of at the top of the window to draw the eye further up. Hang paintings higher. Put items on top of cabinets if there is space.
Do a furniture swap. Swap furniture with a friend or neighbor. If you are the type of person who likes to change things often, consider swapping with a friend.
Think about the cost to care for new items. Consider the care that items require before purchasing it. A stain resistant couch can mean it will be looking good for that much longer. Darker carpet or a rug is less likely to show dirt and stains. A shower curtain that can be thrown in the washing machine is a lot easier than one that requires scrubbing. Curtains that can be steamed at home or dusted instead of treated at a dry cleaner could be more cost effective.
The key to decorating on a budget is to be creative. Use what you have, and shop smart to save. Don't rush to have things perfect right away. Be patient. Each month, you can allot some of your budget to purchase items for your home. You don't have to run out and get everything right away.
How do you save money on decorating? What are your best budget-friendly tips for decorating?
More Frugal Tips
---

You can get my latest articles full of
valuable tips
and other information delivered directly to your email for
free
simply by entering your email address below. Your address will never be sold or used for spam and you can unsubscribe at any time.