Posted by
Don
on April 19, 2018
Are you looking for some low cost, high impact ways to make your house stand out? I can relate. After moving into a new house a few years ago, I grew tired of how the house looked. I wanted to find ways to spruce up a house without spending an arm and a leg.
I set out to do just this. Along the way I learned some simple tricks to save more money than I thought I could. And the best part is the updates I made were done in a relatively short amount of time.
Now when I come home, I am excited seeing the updates and feel that the home is truly ours.
4 Simple Ways to Spruce Up a House Without Breaking the Bank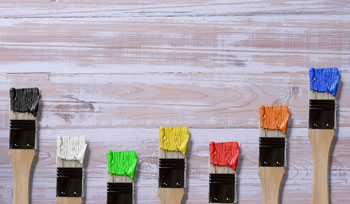 (Photo Credit: darkmoon1968/Pixabay)
Here are the things I did to spruce up a house without breaking the bank.
#1. Paint
Painting is probably the easiest thing you can do to spruce up a house. In our house, the upstairs hallway was painted a peach color that we hated. We ended up picking a light beige color and it looks so much better.
There are a few tips to get the most bang for your money when painting.
Paint the ceiling. It might not look like the ceiling needs a fresh coat of paint, but it is incredible the impact it has.
Remember that light colors make rooms look bigger. If the room you are painting doesn't have a lot of light and is on the smaller side, you are better off going with a lighter color. You can get away with darker colors in large rooms with lots of light.
Consider hiring a painter. I'm not the biggest fan of painting. Taking the time to prep the room, paint the trim, ceiling and walls, and then touching up can take a while. So we hired someone. The overlooked benefit is the savings on paint. Our painter gets a huge discount because of the amount of paint he buys. A gallon that would cost us $60 costs him $10.
It always amazes me to see how big of a difference walking into a freshly painted room can have. Make sure this tip is first on your list too.
#2. Add Trim
Another easy task that makes a big difference is adding trim. You can just add a chair rail and paint the upper half of the wall one color and the lower half another color.
We did this with our guest room and it really makes the room pop. It makes it feel bigger and better put together.
In the hallway, we added a chair rail too. My wife likes the look of wainscoting, but the cost to do it was too much. Instead, I bought some trim pieces and measured out the space and added picture boxes to the lower half of the wall.
Then we had that area painted in a semi-gloss white. If you look really closely you can tell it is not true wainscoting. But to the average eye, you would never know.
And like just adding a chair rail, adding the picture boxes really make the hallway look amazing.
#3. Step Back and Think Things Through
Many times you can find a lower cost way of doing something if you just take a minute and think things through. The internet is a big help too in this regard.
When we finished our hallway, we loved everything about it except for the recessed can lights. It wasn't the lights themselves that we didn't like, it was the cans. The trim ring was white, while the inside baffle was black. It just looked out of place.
I originally was looking at new baffles. A six pack would cost close to $75. Not a deal breaker, but I was hoping to make the change a little cheaper.
I did some research and had my a-ha moment. Instead of buying new baffles, I went and bought a can of glossy white spray paint. I took the lights down and spent 10 minutes spray painting the baffles. Then I let the paint dry and reinstalled.
The difference is incredible and all it cost me was $4 for the spray paint. I wasn't worried about the heat of the light either since we use LED's which stay cool no matter how long you run them.
#4. Update Window Treatments
The final tip to spruce up a house without breaking the bank is to update window treatments. Doing this can easily run you a lot of money, but if you are smart, you can do this for very little money.
The first tip is to replace the blinds. Most likely if you painted the room, the blinds don't compliment the new color of the room. But before you drop a lot of money on blinds, you can go online and get free samples to ensure you get what you are looking for.
From there, just wait until you see a good sale. They happen on a regular basis, you just have to wait. I will mention that spending a little more here to get a quality blind goes a long way.
Remember you will be using it multiple times a day every day, so you want a quality blind that is going to last a long time.
Next up is curtains and shams. For me, less is more here. The previous homeowner had curtains and shams that covered a majority of the window even when open. This filtered a ton of natural light out of the room and made the room look dark and dingy.
By getting small shams and lighter colored curtains, more light filtered in and the room looked brighter and larger.
When it comes to curtains, we chose to shop at Target and other online retailers. Since the blinds were what was being used daily, we spent more on quality there. But the curtains and shams were more for show, so we were OK with spending less and getting lower quality here.
Final Thoughts
At the end of the day, it is easy to spruce up a house and it doesn't mean you have to go into a mountain of debt to do so. Be smart and do the things that will have the most impact.
In many cases, this means painting, updating window treatments, and even adding some new trim details. You might even want to add a few plants around your home too so that it looks more serene.  But if you have pets, just make sure the plants are not toxic.
If you follow these tips, you will be amazed at how great your house now looks given the fact that you didn't spend a lot of money to make it look as good as it does.
Don't forget you can save more this quarter when you spruce up your home. Citi Dividend is offering 5% cash back this quarter at home furnishing stores.
More Ways to Save at Home
---

You can get my latest articles full of
valuable tips
and other information delivered directly to your email for
free
simply by entering your email address below. Your address will never be sold or used for spam and you can unsubscribe at any time.