Posted by
Kristen
on September 17, 2014
Whether you're trying to get out of debt, you want to save more money, or you are trying to simplify your life, it doesn't mean the fun needs to stop. Finding free things to do is the best way to still have fun while sticking to your budget and keeping your spending in check. In fact, you'll probably be more likely to stick to your budget if you're still having fun especially if you're stressed about your money and finances.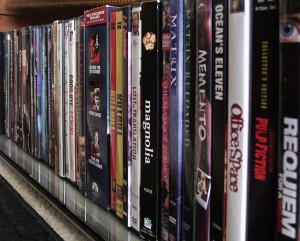 Photo Credit: Andrel Zmievski
Free Ways to Watch Movies
Movies are a great free thing to do for fun. Here are eight ways to watch movies for free:
Borrow from the library. There's a good chance your local library, or libraries nearby, have more than just the books and magazines filling the shelves. Check what movies they have that you can borrow completely for free. Some may only have older titles, but I've seen libraries with new releases as well. Documentaries and educational films are also common at libraries. Just be sure to keep them in good condition and return any movies on time to reduce your chance of a late fee.
Sign up for Red Box codes. Sign-up for texts and e-mails from the company Red Box. The company often sends out surprise codes to get you a one-night movie rental completely for free or sometimes buy one, get one discounts as well. They also e-mail codes as well. Sometimes you can find promotions to free movie rentals from RedBox on popcorn boxes or other grocery store items. Like the library, be sure to return them the next day before the specific time they are due to avoid a late fee.
Check out You-Tube. Sometimes you'll find full movies uploaded on You Tube you can watch for free. Often these titles may be documentaries or independent films and lesser known, but it's a good way to explore movies you may not normally have picked.
Check out Hulu. You may find free movies on Hulu to view. Hulu is also a great website for watching free television shows if you're debating on canceling your cable.
Check out WatchDocumentary.com. If you enjoy documentary films, check out WatchDocumentary.com to browse through almost 10,000 titles. Look through the genres including music, science, biography, health, and drugs.
Find free movie screenings. Search for free movie screenings in your area. For example, you can follow @ColoradoScreenings on Twitter for updates on free movie showings and advanced screenings. Check out the website AdvanceScreenings.com to find free screenings in your area.
Check out places that show movies for free. There are many places in your area that show movies for free. You might find movie showings in local libraries, at college campuses, at the park districts, or other types of community gatherings. My local park district does a movie under the stars night each week throughout summer and fall, and plays a family-friendly movie. I've even recently seen breweries and restaurants advertise specific movies they are playing. Check these specific places for their event calendars.
Use a free trial. You can watch movies for free with a free one month trial from Amazon Prime or Netflix.
What other ways can you watch movies for free? What are your best budget-friendly entertainment tips?
More on Frugal Movies and TV
---

You can get my latest articles full of
valuable tips
and other information delivered directly to your email for
free
simply by entering your email address below. Your address will never be sold or used for spam and you can unsubscribe at any time.