Posted by
Kristen
on October 1, 2012
It's hard to believe that the leaves are changing colors, the weather is getting cooler, and Halloween is rapidly approaching. For parents, Halloween is fun, but it can also be a big expense. Between buying costumes, decorations, candy and treats, and visiting Haunted Houses and other activities, it can add up pretty fast. But if you plan ahead, you can still have a great Halloween for a fraction of the cost.
Here are 13 free or very cheap Halloween activities to show your kids' a great Halloween.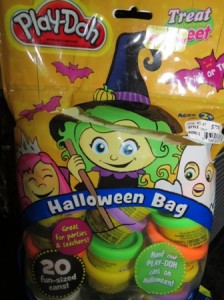 Photo source: Kristen
Free Halloween Activities
Read Halloween books. One of the ways I always know it's Halloween season, is when I walk into the library and see all of the holiday themed books on display. You'll find hundreds of Halloween books at the library that you can borrow for no cost. Whether your kids are preschool ages or teens, you can find something to suite them.
Create your own decorations. Decorating your house can add to the Halloween spirit, but it can be costly. Instead, have your kids make the decorations. You can do something simple like just coloring Halloween pictures or using construction paper to make cut outs of pumpkins, bats, ghost, black cats, and other Halloween figures. But you can also find a bunch of simple craft projects great for kids of all ages. Do a simple search online or borrow a craft book from the library.
Watch scary movies. Nothing feels more like Halloween to me than watching scary movies. Just because they might not be able to watch the classic horror movies yet, kids don't have to miss out on the fun. Plus, it's free entertainment for them. Just find age appropriate movies instead. Any child focused television station will feature kid friendly scary movies or Halloween movies all month long. Search ABC Family, the Disney Channel, Nickelodeon, regular network channels, and any other children's channels you get. Again, you can also borrow movies from the local library.
Tell scary stories. From watching movies and reading Halloween books, your kids may be able to come up with some scary stories of their own. You can take turns telling stories over popcorn or your favorite Halloween treat. For a twist, have everyone tell one line of the story and the next person has to complete it.
Cook scary treats together. Speaking of Halloween treats, make your own. Every October, I cringe walking into my grocery store to see those ready made, overpriced goods waiting for people to grab them and go. You can easily make your own Halloween snacks or desserts to save on your grocery bill. Plus, it gets the kids in on the fun. Search online for easy to make Halloween themed recipes.
Make your own costumes. Instead of paying for a costume, help your kids make their own. Get creative with things you already have in your closet and around the house. If you need an extra boost, let them visit the dollar store, thrift store, or an inexpensive craft store. And be sure to dress up yourself. Kids will love to see you share in on the fun with your own costume.
Jazz up your pumpkins. This year, let your kids paint their pumpkins instead of carving it. Painting allows your kids to have total control since they would need your guidance while carving it. Even little ones can get in on the fun with finger paint. Instead of one big pumpkin, grab a few small ones so they can have a few different projects to work on.
Learn the history of Halloween. If your kids are older, it's really interesting to learn about how this holiday actually came to be. I did a research paper in college studying the holiday, and it's fascinating where these traditions actually came from. During the month, the History Channel, the Discovery Channel, and other educational channels will feature documentaries and stories about the holiday. And of course there are tons of books available at the library on the subject.
Use the entire pumpkin. If you're carving it, don't just let that be the end of it. Pumpkins are an inexpensive, seasonal ingredient to cook with. Clean off the seeds, season them, and roast them in the oven, and you have a little treat. Look for recipes where you use the pumpkin. You can find easy soups and sauces so you're getting the most out of your pumpkin purchase.
Check out your neighbor's decorations. Skip the pricey haunted houses, and walk around your neighborhood to check out the decorations instead. Make it into a game by picking the best house on each block.
Find local free events. There's a great chance that there are dozens of family friendly, Halloween events happening all around you. Check out local park districts. Many times they might sponsor a Halloween party, costume contest, or other activities. Next, ask your library. My library has spooky readings where kids dress up and attend a Halloween themed story time. Local churches and community centers could offer craft events and other fun activities. Other places you may find free events include your child's school, a local high school, college, or even stores and restaurants may offer some type of Halloween fun.
Play Halloween games. Any traditional game can be transformed into a Halloween game. Play pin the tail on the skeleton or bat. Have a Halloween themed scavenger hunt around the house by hiding holiday themed items such as pumpkins, a black cat stuffed animal, fake spiders, and other typical decorations.
Prepare for next year. It may sound a little backwards, but if you're looking to buy Halloween decorations, wait until the holiday is over. You'll find unbelievable deals on both outdoor and indoor decorations including candle holders, serving dishes, and Halloween towels. You can find great decorations for a fourth of what you would have paid a few days earlier. Simply buy them, put them in a box, and next year you'll have fun decorations for a fraction of the cost.

How do you save money on Halloween activities and treats? What are cheap costumes you've made for your kids or for yourself?

More Halloween Fun
Check out today's hottest holiday
Lightning Deals
. Hurry, they change fast and sell out quickly!
---

You can get my latest articles full of
valuable tips
and other information delivered directly to your email for
free
simply by entering your email address below. Your address will never be sold or used for spam and you can unsubscribe at any time.