Posted by
Kristen
on February 17, 2015
Decorating and furnishing a home or apartment doesn't have to cost you as much as you think. If you try to use what you have, be creative and flexible, and be smart and budget conscious, you can end up loving your space without spending a ton of money. Here are five quick tips for decorating on a budget.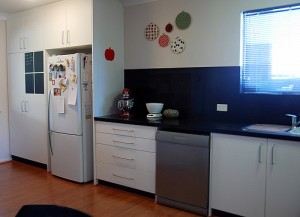 (Photo Credit: craftapalooza)
Tips for Decorating on a Budget
Use what you already have in a new way.
Instead of buying completely new furniture, try to revamp the furniture you already have. Replacing the handles on a dresser is a lot cheaper than buying a whole new one and can actually make a big difference. Switching out a lamp shade, adding a coat of paint to something, or even simply adding wallpaper on the back of a book shelf, can make a big impact with a small amount of money.
Decorate with your items that aren't intended for decorating.
Another way to use what you already have is using the unconventional types of décor. Why not decorate your house with what you love? Colorful scarves, vases, and decorative plates don't have to stay hidden in the cabinets. Even items like tea cups, nice glass ware, or past items from trips can be a great tool for decorating.
Shop at affordable stores.
Before you head out to the department store to buy furniture, accessories, and other house wares, check out the plethora of other affordable options like estate sales, garage or yard sales, thrift stores, craft fairs, farmers markets, art fairs, and even the Dollar Store.
Be inspired.
There are tons of great budget friendly decorating ideas out there. I'll admit that I don't have a great eye for décor, and when I look at magazines, I don't know how the designers put these ideas together to make something look so great. Websites like HGTV and Country Living offer lots of articles on turning furniture into something else new and other cheap fixes that make a big difference. Check out bloggers who write about their experiences with budget decorating. Pinterest is loaded with a lot of visual inspiration on decorating ideas that won't cost you a lot of money.
Look for deals.
The same way you search for deals for groceries or plane tickets, search for deals on painting supplies, furniture, and any other décor for your place. Even if you're not shopping in a super affordable place like a thrift store or the others listed above, you can still find a decent price. Sign up for e-mail alerts from stores to receive coupons and to be notified anytime there's a sale.
Tips to Remember
If you're buying any furniture used or getting it second hand, you'll need to clean it thoroughly for bed bugs, mold, and other items.
Be patient. Don't run out and put purchases on a charge card because you think you need them for your new place. Save up to buy one thing a month.
To keep items in great condition, know how to care and maintain them. What types of soaps and cleaners should you use and which should you stay away from? Keep stain fighter on hand so if something spills on a couch or rug, you can get to it before it's ruined.
What are good tips for decorating on a small budget? Share your creative ideas to use what you already have to decorate.
More Frugal Tips
---

You can get my latest articles full of
valuable tips
and other information delivered directly to your email for
free
simply by entering your email address below. Your address will never be sold or used for spam and you can unsubscribe at any time.