Posted by
Kristen
on July 14, 2014
Saving money on food is a tough task since it's a huge part of each day. While you may have reduced going out to eat at restaurants or stopped or limited fast food to save money, there is still the grocery bill to battle. Grocery bills can add up fast and be quite large, but if you're creative, you can save at the store by using simple tricks. Previously, I wrote an article on 14 ways to save money on your grocery bill. While looking at the tips, I realized a few of the tips needed a bit of a makeover or extension to make them even stronger. Before you head out to the grocery store this month, check out the original article plus these five new tips for saving money on your grocery bill: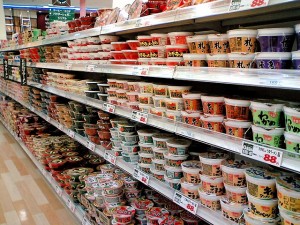 Photo Credit: buck82
Tips to Save at the Grocery Store
Original tip: Look at the sale ads.
New tip: Look at sale items NOT listed.
Look at the sale ads to find what deals are advertised at the grocery store. You can find this ad online or when you walk into the store. You'll find what's on sale and possibly coupons, depending on the store. But to take it one step further, check items not listed in the ad as well. Some items may not be listed in the sales ad because it's a spur of the moment decision from the store. For example, if a specific meat isn't selling as quickly as anticipated and has the potential to go bad, you might see a "Manager's Special" or "Discount" coupon on it that makes it cheaper. Chances are, this sale isn't in the ad. The same is true for produce, bakery items, deli, and even packaged goods. Don't just stick to the sale ads. Open your eyes, and see what else is on sale.
Original tip: Clip coupons you need.
New tip: Maximize your coupons saving potential.
Using coupons is a great way to reduce your grocery bill and is almost like free money. While simply using coupons is great, there are ways to make them stretch even further. Contact local grocery stores to see if they offer a double coupon day, where they can double the amount you're saving with that specific coupon. Use coupons for items already on sale to save even more. Many times a store will accept both a store coupon and a manufacturer's coupon for the same item. For example, say your store has a coupon for a particular brand pasta sauce, you can try to find a coupon from the manufacturer of the sauce for additional savings. And as I mentioned in the original post, you can often find manufacturer coupons by visiting their website, following their page on Facebook and Twitter, or even writing to the company to ask for coupons.
Original tip: Buy in bulk.
New tip: Highlight expiration dates.
Generally, buying in bulk is a great way to save money. However, if you're not careful how you're using it, buying in bulk can turn into wasted food. Whether it is a bulk item or not, label the expiration date of all of your food. This way you can clearly see when something is about to go bad so you can use it to avoid ripping up money. Also, if you're reaching for chicken broth, you can opt for the one that expires first. When you're loading your fridge or pantry, put the newer items behind the old so you're using them first. Also, take regular inventory of what you have. This will help you create meals working with the ingredients you have on hand, avoids double buying, and allows you to use items before they expire.
Original tip: Don't throw away your receipt.
New tip: Look carefully at your receipt.
The receipt is the best way to get your money back for an item that is damaged or if you bought the wrong item, as I mentioned in the original post. But there are a few other reasons you should hang onto that receipt for a while. First, double check that everything rang up correctly, and you didn't overpay. While I also recommended keeping an eye on the scanner to do this as you are being rung up, sometimes it is difficult to be unloading your cart and keeping an eye on every item that's swiped. It's not uncommon for produce to be mistaken for something different or items to get rung up a second time on accident. Second, some stores offer the opportunity to take a survey. Sometimes, this could get you the chance to be entered into a sweepstakes for a gift card. Even if there's no sweepstakes, it's a good place to express your views on anything you feel is overpriced, what types of sales you wish you saw more of, and what products you'd like to see coupons for. Next, sometimes a store offers something for shopping there. The Safeway chain stores offer rewards for shopping that reduces the price of gas at certain gas locations. One more reason to keep your receipt is the back. Some stores have coupons on the back of their receipt for local businesses or products in the store.
Original tip: Keep leftovers in mind.
New tip: Package your leftovers correctly.
In my original article, I recommended choosing your meals based on leftovers. Baked chicken one night can mean chicken quesadillas the next. Tacos one night can mean taco salad the next. One thing to keep in mind when dealing with leftovers, is to be sure to store it properly. You want to opt for packaging and containers that are air tight or use a Foodsaver. Label and date it to ensure you know what's in the fridge and that you use before it goes bad.
What are your best tips for saving money at the grocery store? How do you stick to your budget for food every month? What is the hardest part about sticking to a budget when grocery shopping and how do you deal with it?
More Ways to Save on Groceries
---

You can get my latest articles full of
valuable tips
and other information delivered directly to your email for
free
simply by entering your email address below. Your address will never be sold or used for spam and you can unsubscribe at any time.