Posted by
Jill
on November 29, 2011
Update: See this year's list of updated gift card deals!
It's shopping time again! And it's time for the annual list of the best deals on restaurant and retail gift cards. Buy cards to give as gifts or to lock in a discount on your favorite chain restaurants.
Use credit cards offering cash back on restaurants (Discover More has 5% this quarter!) to increase your savings. And if you use your gift cards yourself, make sure to pair them with coupons for even MORE of a discount on your favorite meals!
Use your bonus cards as an extra inexpensive gift for someone on your list, a coworker or teacher, or a special treat for yourself! Make sure to check the fine print on each offer – some restaurants limit the number of bonuses you can earn, and most bonus gift cards can be used for a limited time.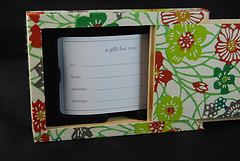 Source: JustMakeIt
Restaurant Gift Card Deals
Applebees: Buy $50 and get $10 bonus card (in-store only – not available online). Promotional card expires 2/29/12.
BJ's Brewhouse: Receive a free gift plus a surprise bonus gift card with the purchase of $50 or more in gift cards.
Benihana: Receive a $10 Promotional Card with the purchase of $50 in Gift Cards. Promotional cards valid through 3/31/12.
Chili's: Save 10% when you purchase $100 or more in gift cards.
Chipotle: Purchase $30 in gift cards (in-store only), receive a coupon for free burrito on next visit.
California Pizza Kitchen: Purchase $100 in gift cards, get a $20 rewards card. Rewards card must be used between January 3 and March 12.
IHOP: Buy a $25 gift card, receive a $5 coupon. Coupon expires 1/31/12.
Macaroni Grill: $5 bonus card with every $25 purchased. Bonus card valid 1/2/12 – 2/29/12.
Outback: Buy $100, get $20 free (online or in-store). Purchase by 12/31/11 and use bonus card between 1/1/12 and 2/10/12. May receive up to 10 bonus cards.
Panda Express: Receive free entree when purchasing $25 or more in gift cards. In-store only.
Potbelly: Get a ticket for a free sandwich when you purchase a $25 gift card.
Red Robin: Get $5 bonus card for every $25 of gift cards purchased, OR receive 20% off your gift card purchase of $500 or more. Bonus card valid 1/2/12 – 2/29/12.
Taco Cabana: Receive $5 when you buy $25 in gift cards.
Ted's Montana Grill: Receive $20 bonus card for every $100 in gift card purchases. Bonus cards expire 45 days after purchase.
Uno Chicago Grill: Receive a $5 voucher for every $25 in gift cards.
Other Shopping Gift Card Deals
AMC Theaters: Free $5 gift concession card for every $30 spent on gift cards. Must purchase in theaters. Concession card expires 2/29/12.
Barnes and Noble: Buy $100 of gift cards on bn.com, get a $10 e-certificate for use online only. One bonus per mailing address, must have bn.com account to receive bonus.
Mastercard: Spend $200 online and get a $20 Gift Card.
DSW Shoes: Buy $50 a gift card, get a $5 bonus card free. Bonus card valid 1/14/12 – 1/29/12.
UPromise: Spend $20 or buy $20 of gift cards at 5 UPromise restaurants, receive $25 in Upromise cash back. I love this promotion because it gives you cash instead of a gift card. If you can find restaurants on UPromise that have their own gift card deals, you might even be able to combine promotions!
More Holiday Gift Ideas
If you don't see anything you like, you can always check our list of gift card alternatives or see how the 2011 gift card deals compare to last year for more gift card gift ideas or check out more inexpensive gift ideas in our gift guide series:
What other gift card deals have you found this holiday season? Feel free to add them to the list below!
Check out today's hottest holiday
Lightning Deals
. Hurry, they change fast and sell out quickly!
---

You can get my latest articles full of
valuable tips
and other information delivered directly to your email for
free
simply by entering your email address below. Your address will never be sold or used for spam and you can unsubscribe at any time.