Posted by
Adrienne
on July 13, 2015
Before I make any purchase I go through a series of questions. Here are 6 Questions to Ask Yourself Before You Make a Purchase. These questions and some additional considerations help me to decide if I need to make the purchase and how to do it most cost effectively. This process works for things both large and small.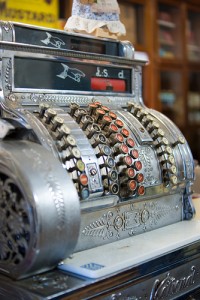 (Photo Credit: tarale/Flickr)
Things to Consider Before You Buy Something
Figure out why you want to buy it.
Why do I want to buy this thing? Is it to solve a problem? If so what exactly is the problem. Spelling it out in detail before I look to buy helps me know what I'm really looking for.
Do I already own something that is good enough?
Sometimes the solution to your problem is already around you. You might use something for a different purpose that would do the trick. That small table in your basement could make a great nightstand. Find ways to Substitute, Improvise, and Make Do With What You Have.
Can I borrow it?
This is especially a good question for those things you need infrequently. Maybe a seed spreader would really help you with your yard but how often will you use it? Can you borrow one from a neighbor?
Is someone giving it away?
Other times what might be useful to you is junk to someone else. My family regularly sends out emails such as "I'm getting rid of X – anyone want it?" It doesn't hurt to look around for a free option before thinking of spending money.
Is there money in the budget?
Can You Afford It? For me this question is not about if I have money it my account but if I have room in my budget. If there's not money left in the budget (and it's not urgent) I will probably wait. If it is urgent I'll have to think of what I'm cutting back in other areas.
Buy used.
With sites like craigslist and ebay it has never been easier to buy used. Think of what keywords would be helpful in your search. It's possible to find just what you're looking for at a fraction of the cost of new. Consider 7 Things You Should Be Buying Used.
Look at reviews.
If I'm buying something new I make sure to look at reviews to see if the product will do what I need and if it will last. You have to be wary of reviews as some companies pay people money to write good reviews for them. The best sources are when there are many reviews on the product.
Shop prices for new items.
Once I've determined which product I'm looking at I start shopping prices. I look at both online and retail prices (don't assume one store will always have the lowest price on everything – you'd be surprised). Include things like shipping costs to compare prices.
Look for discounts.
Once you've found a great price see if you can get it even lower by adding discounts. Maybe your credit card offers cash back if you get to the retailer through their site. Search online for discounts, coupon codes or free shipping. It only takes a few minutes but could save big bucks.
Pay full price.
If you've shopped around and decided you really need this thing and you can't get it on sale or discount then you might just have to pay full price.
If you go through these steps with your purchases it will be rare that you get to step 10 but if you do you'll be satisfied that you really considered your options beforehand. This is my purchasing process; what does yours look like?
More Questions to Ask Yourself
---

You can get my latest articles full of
valuable tips
and other information delivered directly to your email for
free
simply by entering your email address below. Your address will never be sold or used for spam and you can unsubscribe at any time.