Posted by
Kate
on June 22, 2009
Many of you with an interest in personal finance have probably explored various budgeting strategies and tools that can help make the task a bit easier.
One popular program is You Need A Budget (YNAB), a tool that promises simple, easy-to-use software and a money management methodology.
I recently took a look at YNAB Pro and really liked what I saw! You Need A Budget has four main principles that it encourages as a way to financial peace:
Stop Living Paycheck to Paycheck
Give Every Dollar a Job
Prepare for Rain
Roll with the Punches
YNAB Basic Versus Pro
One of the first things you'll notice on the You Need A Budget website is that there are two versions of their product offered, Basic and Pro. The YNAB Basic version is $24.95 and the YNAB Pro is $49.95 and you can either download the software or request a hard copy. Unfortunately, Mac users will have to stick with the Basic version for now because the Pro version is not yet available.
Some advantages of the Pro version are that it allows you to import transactions from your bank and automate recurring entries, and also offers unlimited budgeting categories and auto-suggested budgeting features. It also has built-in reporting and lets you enter a single receipt and split it up among different budgeting categories which can come in very handy.
Register
The first YNAB section is the "Register," which allows you to store all of your financial transactions from multiple accounts, including checking and savings accounts, and credit cards.
You can download data from your financial institution and import it here or you can manually add entries, which may be most effective for cash transactions. The most important part of this section is correctly categorizing your entries (i.e., Food: Groceries, Food: Restaurants, Recreation: Entertainment), which is the basis for the rest of the You Need A Budget program but unfortunately can take quite a bit of time at first.


(click on the images to expand them)
Budget
Once you have organized and categorized all of your transactions in the Register, you can click over to the Budget tab to see your total expenditures from the time frame that your data encompasses. What's so great is that every individual transaction is now rolled up so that you see the total amount you spent in each category for each month, i.e. total "Food: Groceries" in April. Having this information from the past couple of months is a great way to form a budget that you want to stick to for the coming months.
Now, for upcoming months, you can establish a baseline budget of the amount you expect to spend in each category and mark it under the "Budgeted" column. You Need A Budget will automatically calculate the "Remaining" amount that you have left to spend in each category and overall for the month. As each future transaction is registered and categorized, your monthly surplus or deficit is clearly displayed.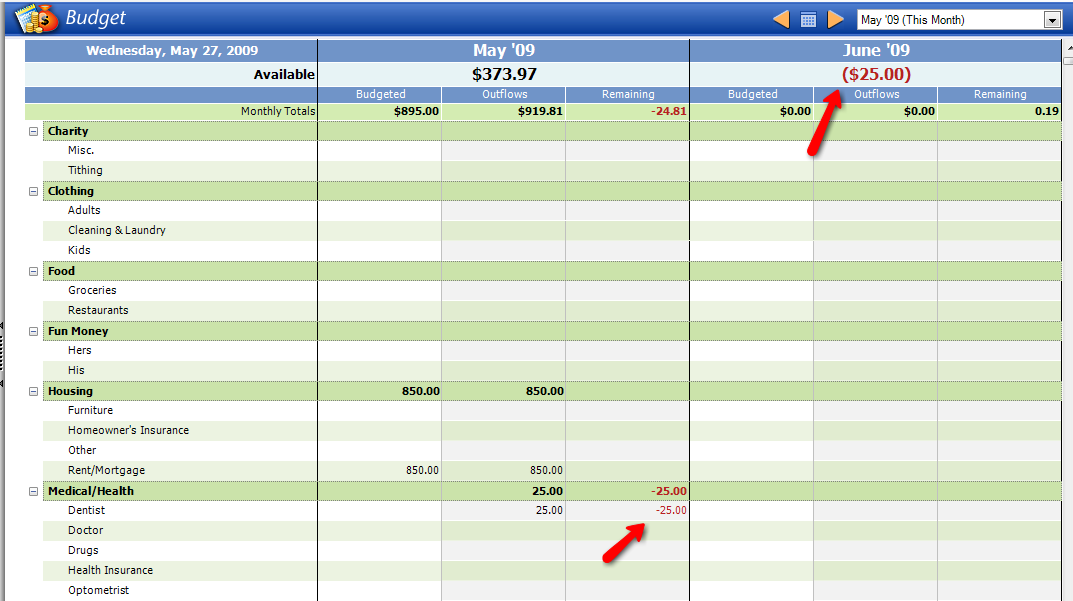 Scheduler
The "Scheduler" section of You Need A Budget is a convenient way to lessen the amount of manual entries you have to make. Recurring elements of your budget, i.e. a paycheck, a mortgage payment, car insurance, etc., can be scheduled here so that you don't have to enter them each time they actually do occur.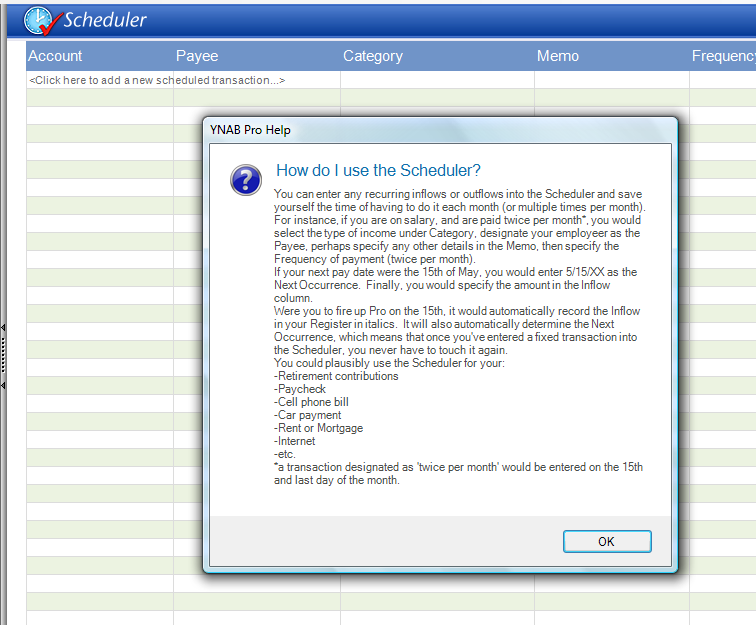 Reports
And now for the fun part! You Need A Budget lets you take all of this information that you've entered about your spending and income and make some sense of it in pictures: charts and graphs. I thought this section could use some flushing out in terms of more ways to view your data but I think the "Spending by Category" pie chart is awesome. It's such a great way to see where your money is going each month. The "Total Spending (month-to-month)" is also a great way to see fluctuations in your monthly spending, both overall and by category.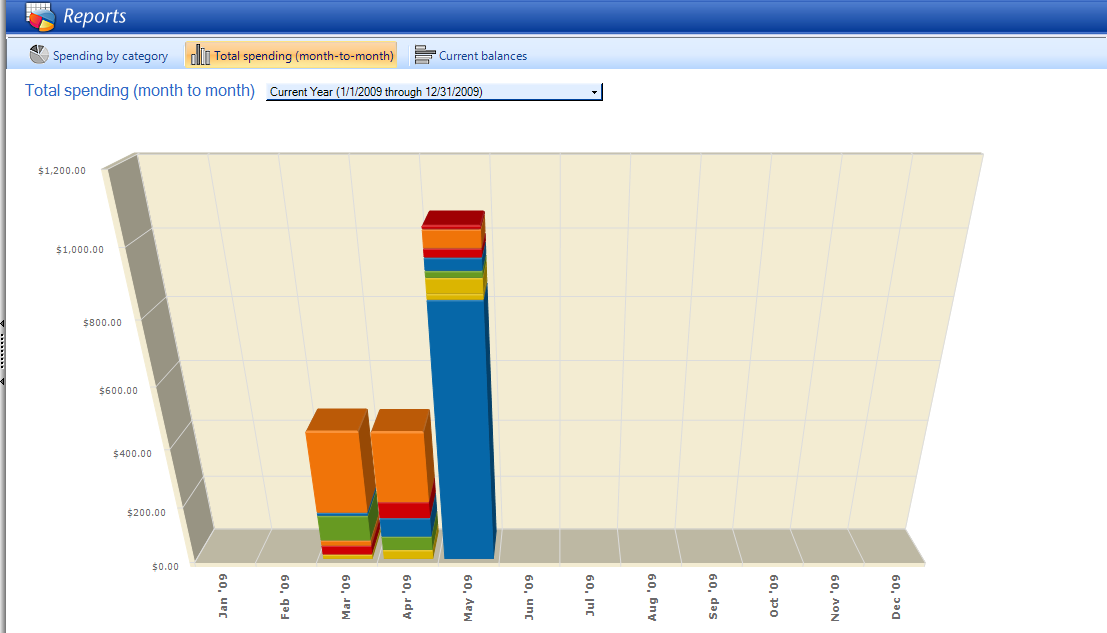 You Need A Budget
You Need A Budget is a great tool for anyone looking to get their finances better organized. Those who are familiar with Microsoft Excel will especially like the familiar format of the "Register" and "Budget" screens.
YNAB will also appeal to those who feel uncomfortable giving a budgeting tool access into their accounts and prefer a program that sits on their desktop. However, because YNAB does not receive a feed from any financial institutions, the process of entering every single transaction can be very manual.
This provides very good encouragement for keeping track of every penny though!  I also found the "Help" menu on the left-hand side of the screen very handy.
Do you use You Need A Budget? How do you like it?
---

You can get my latest articles full of
valuable tips
and other information delivered directly to your email for
free
simply by entering your email address below. Your address will never be sold or used for spam and you can unsubscribe at any time.