Posted by
Madison
on October 27, 2010
The Money Writers thought it would be fun to share the contents of our wallets with readers! Here's a peek inside my wallet and the reasons why I carry each card.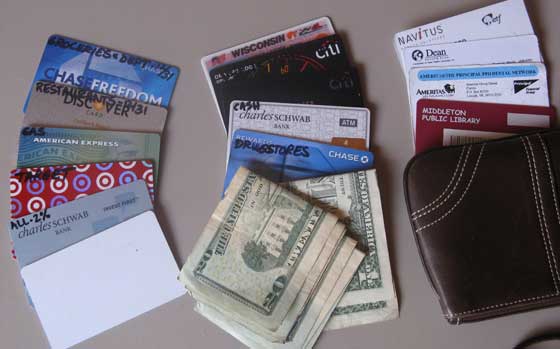 What I Carry in My Wallet and Why
If you didn't already know it, it's going to become apparent that I really am a credit card junkie. Although I just pared it down to the essentials a few months ago, so now I only carry the most important stash of cards!
Chase Freedom. The Chase Freedom card earns 5% right now on grocery stores and department stores, so it's a frequently used card this quarter in my wallet.
Discover More. Discover is giving 5% cash back on restaurants for 4th quarter, so I keep it handy for when we eat out and don't have any cash on hand.
TrueEarnings Card from Costco and American Express. I use the American Express card for gas everywhere, and for all of our shopping at Costco. When you have the Costco credit card, you don't have to carry your membership card!
Target Credit Card. If we aren't stopping at Costco to pick up diapers, then there's a good chance we're stopping at Target during the week! And with their new 5% discount credit card, I'm keeping it handy.
Schwab Credit Card. For everything that doesn't get charged somewhere else, it ends up on our Schwab card for 2% cash back.
Mailbox key. We live in a neighborhood that thought it was a fantastic idea to keep our mailboxes in a common area. Except now we need a keycard to get into that building. I've got to be honest, I'd take a mailbox at my house any day over having to carry around this stupid card.
Drivers License. I only wish I had my driver's license from 10 years ago, the one with the cute picture! Now I have to carry around an ugly one, just like everyone else!
Citi Credit Cards. Citi recently mailed a $10 statement credit incentive to use a few cards I have abandoned. Of course I threw them in my wallet with a note to charge $10 on each next time I make a purchase. I'm never one to pass up free money!
Schwab ATM Card. We use Schwab for our high yield checking and get free ATM withdrawals anywhere. It's a no brainer to be able to access cash at the nearest ATM without having to pay a fee.
Chase Rewards. This is an old card that I don't think you can get anymore; we're grandfathered in. It earns cash rewards on our drugstore purchases. If we didn't have this card, we'd probably use our American Express Blue Cash for drugstore purchases.
Cash. I usually carry between $100-$200 in cash. Scott and I each take an allowance twice a month. We spend this money on lunch, haircuts, dining out and other miscellaneous things. We've operated this way for more than 10 years, so we just keep on doing it that way!
Prescription, Health, and Dental Cards. With a family of five it seems we need access to these cards pretty frequently. I do wish they would consolidate them all into one card though, since they are all run through the same university health plan.
Library Card. I don't go to the library very frequently, but it's one of those things I learned to always carry with you as a kid.
Wristlet. I don't carry a wallet, but I shove everything into a wristlet that I can either put into my purse, diaper bag, or carry on it's own depending on where I'm headed. Someday when the kids are older and I don't have to carry a diaper bag, I might go back to a regular wallet and purse.
Thoughts About My Wallet Contents
Missing PenFed Card. Another one of my favorite credit cards is my Pentagon Federal VISA Platinum Gas / Cash Rewards Card. It offers 5% cash back on gas purchases and rotating 3% cash back. However, since I'm running a balance transfer deal on it for arbitrage, I keep it safely tucked away in my den with the other cards that aren't in use right now.
Missing Rewards Cards. I dumped all of my rewards cards in favor of the droid app Key Ring Reward Cards. We'll see how that works, but for now it's nice to not have to carry around all of the extra rewards cards.
Revolving Cards. Of course the contents of my wallet will change, as they do each quarter when we sign up for the new quarterly 5% Rotating Cash Rewards Credit Cards.
Labels. You'll also notice I write exactly what each card should be used for in a sharpie marker. With cards changing uses each quarter… it becomes a lot to remember! I started doing this for Scott, but now I found it even helps me remember too.
What's in The Money Writers' Wallets?
Want to see what the rest of the Money Writers carry in their wallets? Check out their pictures:
What do you carry in your wallet and why?
---

You can get my latest articles full of
valuable tips
and other information delivered directly to your email for
free
simply by entering your email address below. Your address will never be sold or used for spam and you can unsubscribe at any time.