Posted by
Madison
on May 15, 2014
I like to read about strategies other Amazon sellers use to work on improving my Amazon business model. I've never used loans for inventory (however, sometimes I do float purchases on credit cards with 0% on purchases if it works out), but I heard about other sellers using Kabbage loans.
When I found out Kabbage had a sign up bonus I was really intrigued! I looked into Kabbage to feature them as a possible free money deal. Here's what the sign up bonus looks like:
Kabbage Sign Up Bonus
Sign up for Kabbage via this referral link.
Take an advance from Kabbage in an amount of $2,000 or more.
Get a $50 American Express gift card.
Kabbage Sign Up Process
I set out to establish a Kabbage account to take advantage of the $50 gift card to see if I could make it a profitable bonus after the fees. The sign up process was quick; I was able to select Amazon as a business and it automatically linked it to my Kabbage account. I also linked my bank account so they could do a business account checking review. The total time was about 5 minutes (but I had to check back the next day to get access to the cash after they verified the micro-deposits in my checking account.)
Overall, the sign up process was pretty seamless once I selected Amazon and linked my account. Here are the other accounts they link to automatically: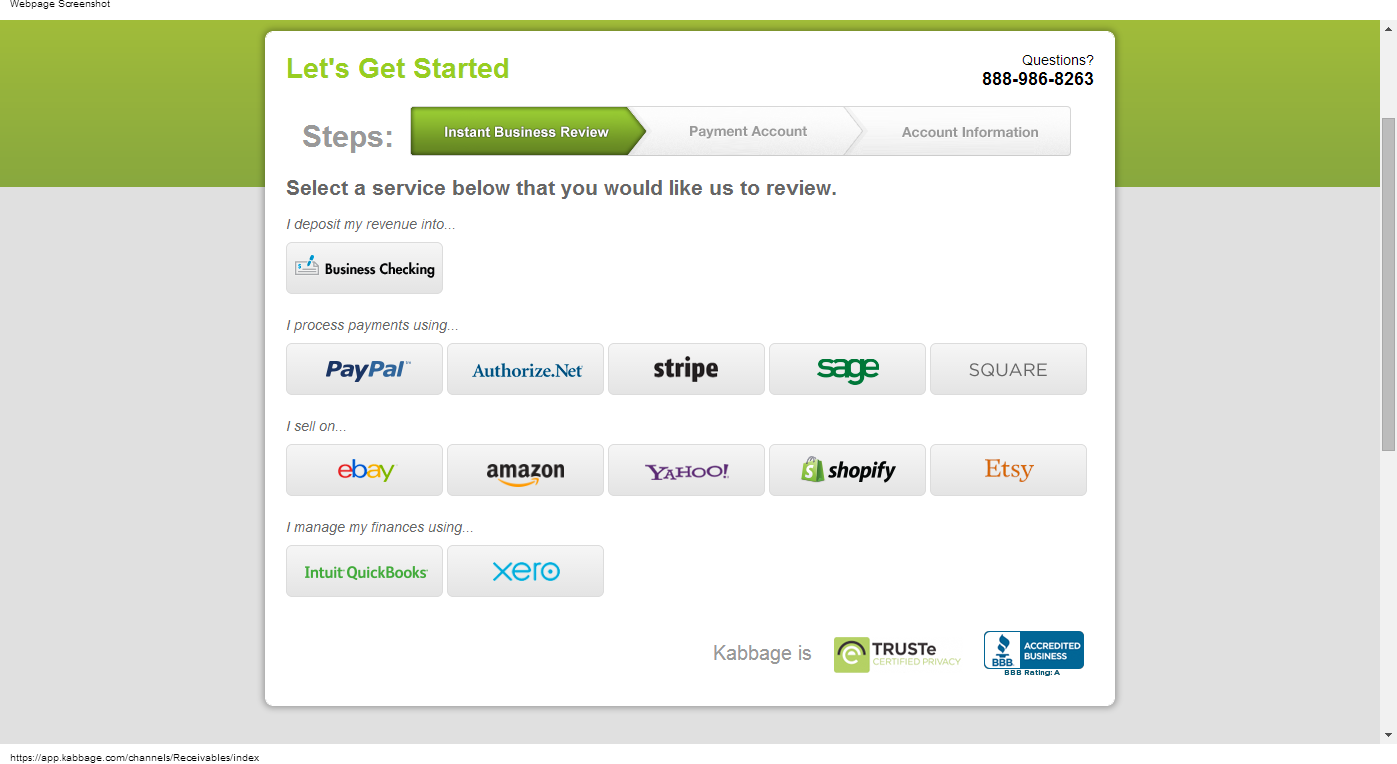 Kabbage Fees & Loan Charges
However, what I found once I signed up was a bit disappointing. Here's what they state about their Kabbage Loan Charges:
The cost structure of our Loans is straightforward. We don't charge any interest. Instead, Loan Fees are assessed. Fees are 1% – 12% of your selected loan amount the first 2 months and 1% for each of the remaining 4 months. Every month, for six months, you pay back 1/6th of the total loan amount plus the monthly fee. There are no early payment fees. In fact, early payoff will shorten the length of your Loans and save you on future Fees.
Sounds simple, right? But let's take a closer look. Here's the loan offer they presented me with (click to enlarge it):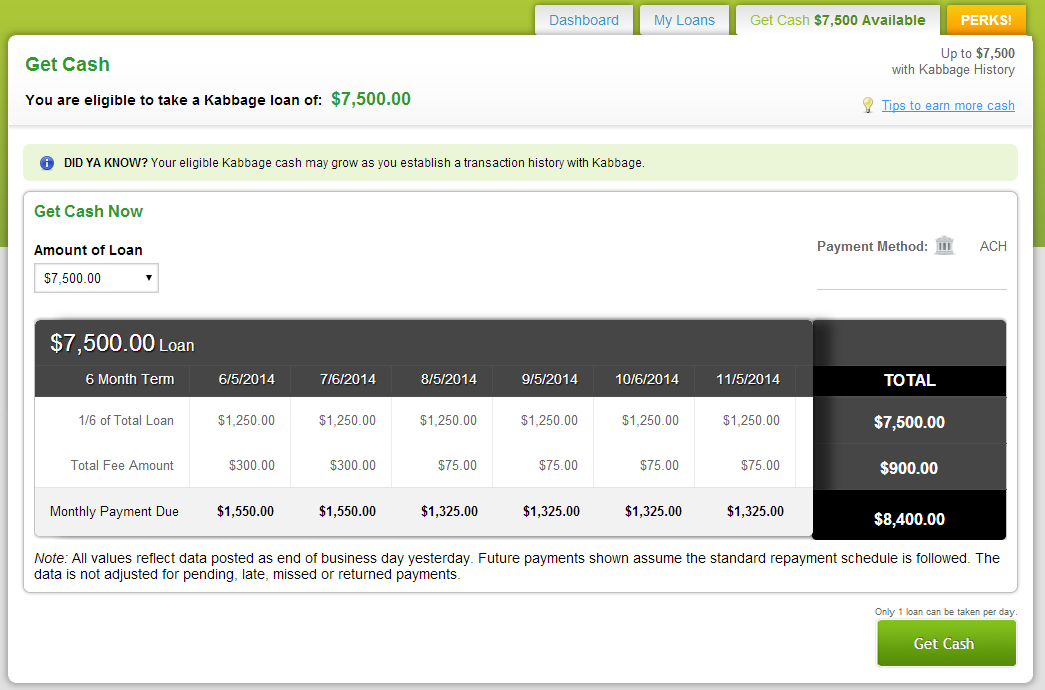 Do the Math: Kabbage Interest Rates
In fact, while it appears straightforward, I felt like it was somewhat deceptive when you convert the "loan fees" into an interest rate, which we are all familiar with.
When you look at my loan offer with $900 in fees over 6 months on a $7,500 loan, we're actually talking about an annual interest rate of 24%! Yikes!
Of course, I did just complete my $1,720 + 267k Point Credit Card Application Spree recently, so my credit score probably wasn't at its peak. However, even if you qualify for the lowest fees they offer at 1% of the loan, you're still looking at a 12% interest rate, which is still awfully steep in my book.
Can You Make the Bonus Work?
One month loan. The fee for a one month Kabbage loan of $2000 was still $80, which didn't make taking advantage of the sign up bonus profitable for me. However, it could work out if you qualify for the best rate of a 1% payment in the first month. It's something you'll want to calculate before taking the loan just for the sign up bonus.
Referrals. In addition, there is an opportunity to make some additional money once you sign up. You can refer other small businesses. If they take advantage of the sign up bonus, you'll get a $100 American Express gift card.
Kabbage Alternatives
While I haven't had the need to use a loan for inventory, I realize that some readers may want to do so at some point to manage your cash flow. Just be really careful with your options. If you do consider using Kabbage be sure to calculate all fees and figure out the interest rate you are really paying!
Kabbage Alternatives. I'm going to stick with my own Kabbage alternatives that offer free cash flow management and 0% on purchases: credit cards… especially since I can earn rewards at the same time! Here are some of the current offers on cards with the longest 0% on purchases:
---

You can get my latest articles full of
valuable tips
and other information delivered directly to your email for
free
simply by entering your email address below. Your address will never be sold or used for spam and you can unsubscribe at any time.