Posted by
Kristen
on August 1, 2013
College is expensive. Even if you have been applying for scholarships or finding other ways to avoid student loans, there are many other costs besides tuition. One of the biggest costs in college is textbooks. Depending on your major and your school's required textbooks, you could spend thousands of dollars per year on textbooks. But before you take out an extra student loan to pay for your costly books, here are some ways to save on college textbooks.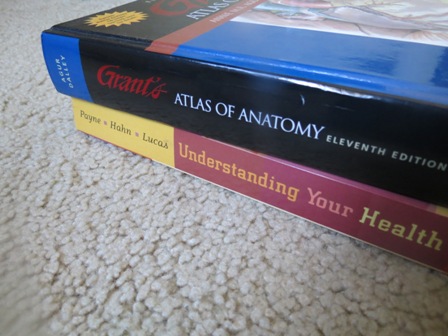 Save Money on College Textbooks
How to Save Money on College Textbooks
Be sure you have to buy the book.
I can't tell you how many times I bought an expensive textbook throughout college and never used it. Sometimes you get the names of the textbooks you need before the class begins and go run out and buy it. But that may be suggested reading by your professor. Send them an e-mail asking if it is required or just a suggestion.
Borrow from you school's library.
Chances are if the book is required through your college, it may be in the college library. As soon as you find out you need the book, call the library. If it is there, you can reserve it, and go pick it up for no cost.
Get it from the local library.
With only a few copies in your college library, it may go fast or not even be there at all. Some college libraries also require the copy of the books stay in the library and cannot be checked out. In that case, check with your local city library. Before you go in, call the library to see if it's there. Depending on where you live, your library may be able to order it from another nearby library or look up in the system which other libraries carry the book you're looking for.
Buy it used.
College textbooks are one of the 7 Things You Should Be Buying Used. Your college book store most likely has used books as well as new. Select from the used books first. You can also find your textbook at used bookstores nearby. A popular way to find used books for a reduced price is to shop online for it at Amazon.com or on Ebay. Just be sure it is the right version and the book is in fairly decent condition before buying it used.
Share with a friend.
If you know someone in your class, consider splitting the cost with them and sharing the book. This could be difficult if you live far away from each other or if it's a book you will need often. But I had a few friends that were roommates in college that would share books. They would always have a clear outline of who gets the book when and how it would work when it came time to sell it back.
Make a copy of it.
This wouldn't work in all cases, but it can be a way to get the book for free. If your professor has detailed specific pages that you will be reading throughout the semester or it is a small book, you can try this. Ask a class mate or your professor if you could borrow the book for an evening or over the weekend. If you have a scanner, you can scan the assigned readings onto your computer. Now if it is a book that is several inches thick and there are no designated readings, this may not be worth your time to scan an entire huge book.
Act fast.
Regardless if you are trying to borrow a book from you school's library or purchasing a book, act fast to save. If you delay, the chances that the book will be available in the library are going to go down drastically since there are many other people in your class wanting to do the same thing. And if you've decided to purchase the book because you want it or the library doesn't carry it, visiting your book store early can give you the option of buying it used.
Know what you're buying.
Whether you're buying it used online or from a book store or ordering it new, be sure of what you are getting. Textbooks have a tendency to change versions or editions often so be sure you are getting the right one. Some come with a CD or a password to have supplemental course material so be sure that that is included, especially with any used books. If you're purchasing a used book, make sure it's still in usable condition. It's one thing to have some highlights throughout the book, but if you have missing pages or are unable to read part of it, that could be a problem.
Sell it back when you're done.
I would always try to offset any costs of my textbooks by selling my used books from last semester. So keep selling them back in mind as soon as you buy them. Try to keep the book in the best possible condition so you can sell it either at your book store or online. I always sold my books on Amazon.com instead of selling back to my college because they offered more money. When you list the books, be sure to write a detailed description including any damage. Also include if you still have any CD or supplemental material that went along with the book.
Think before you sell though.
Before you list your used textbook of Amazon, take a few minutes to think if the book would be beneficial to you down the road. If it is a class that is part of your major, you may want to keep it as a reference to classes down the road. As a journalism major, I kept all of my books about basic writing style to go back to whenever I needed it and to review it every so often. If it is any type of book that would help you with other classes, it might be worth more for you to hang on to it.
How do you and your kids save money on textbooks in college?
More Ways to Save for College Students
---

You can get my latest articles full of
valuable tips
and other information delivered directly to your email for
free
simply by entering your email address below. Your address will never be sold or used for spam and you can unsubscribe at any time.