Posted by
Don
on December 22, 2014
Seeing stores open on Thanksgiving and the ads trying to get us to buy a bunch of stuff we really don't need makes me sad. I feel we have lost the true meaning of the holidays, which is all about giving. It's not about how much you spend or how flashy of a gift you give or receive; it's about being human and giving to others, without the expectation of getting something in return. How do you go about getting back the true holiday spirit? Here are 3 tips.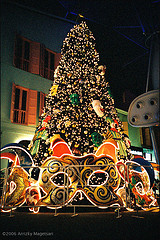 Donate
While you should donate throughout the year, now is a big time to donate for two reasons. First, it is the holidays and many still have the spirit of the season in their heart. The second reason is because it is finally getting cold and many people tend to give when it is cold out rather than when it is hot.
So how and what can you donate? You can donate clothing and household items to the Salvation Army or Goodwill. Some churches even collect donations. You can give food to a food bank or the Boy Scouts if they collect food in your area.
If you want to get more specific, you can donate a new toy to Toys For Tots or donate a new winter jacket to the police who give them out to those in need.
Lastly, you could just donate money. No charity will turn down money. If you are struggling with a charity to donate to, here is a great list to get you started in your search. In the end, any type of donation you can make is helpful to those in need.
Volunteer
If you don't have something to give, you can simply give your time by volunteering. There are endless charities that need your help, not just this time of year, but throughout the year. Trust me, a charity will never turn you away. They will find something for you to do.
But before you run out to volunteer, you have to think things through. If you don't like hospitals, then volunteering in one doesn't make much sense. Try to match your interests with a charity. This will ensure that you follow through and volunteer and you will also be passionate about it and will give it your all.
I know that from the places I volunteered at, just seeing the smiles and the appreciation on the faces of those we were helping made my day. Heck, it made my week. I didn't volunteer to get something out of it, but I walked away feeling like a much better person than when I walked in.
Help Those In Need
While you could classify helping those in need into the categories above, I broke it out because I want to talk about something particular this time of year. There are many families out there struggling and they cannot afford to buy gifts for their kids, or maybe for anyone in their family. There are great organizations out there that allow you to either adopt a child or a family.
In my area, you can adopt a child by going to the local Open Line. There is a Christmas tree with ornaments on it. You pick an ornament, which has a child's name and age, and you buy a few gifts for him or her. You can take as many ornaments as you like. You then bring the gifts back to the Open Line and they give them to the kids.
You can also adopt an entire family at Open Line as well. My previous employer even had something similar. They teamed up with a local non-profit and we were assigned either a family or the kids depending on what we wanted to sign up for. We then had the names, ages and a wish list to go out and buy gifts for them. We would bring the gifts to work on a Monday and the volunteers would take them and distribute them to the kids or families.
Final Thoughts
In the end, this time of year is all about giving back and helping those in need. Don't get caught up in getting that flat screen TV at bargain basement prices. Focus instead on those that need the basics – clothes, food and a place to live. They could use that much more than you could you a flat screen TV. When they do receive their gifts, they will be thankful for them and you will feel good as well, knowing you did good this holiday season.
More Ways to Give
---

You can get my latest articles full of
valuable tips
and other information delivered directly to your email for
free
simply by entering your email address below. Your address will never be sold or used for spam and you can unsubscribe at any time.