Posted by
Madison
on April 22, 2013
There are a few products in my life that I think are incredible money savers. We all know the Ooma phone is my personal favorite. Last Christmas, I gave my husband a Nest Learning Thermostat which I am hoping will make my short list of products that save us money.
To celebrate Earth Day, I thought it would be fun to dive in and see if the Nest is saving us money!
Background
Amanda recently reviewed How to Find the Best Deals on Electricity in a deregulated area. We don't have that option, so our electricity and gas bill is dependent only on our energy use alone. We considered converting to Solar Panels, but could never justify the expense. As a money saver, I was excited when my husband put the Nest on his holiday list and jumped at the chance to get it for him!
What is the Nest Learning Thermostat?
It's a programmable thermostat. But it programs itself! To focus on energy savings, the Nest learns the temperatures you like and develops an auto schedule. Then, it turns down the thermostat when it senses that you and your family aren't home.
For a much better explanation, here are the product details about the nest from the manufacturer:
Your thermostat controls about 50% of your energy bill – that's as much as the refrigerator, lighting, TVs, stereos and computers combined. Problem is, a lot of that energy is wasted heating and cooling an empty home. The Nest Learning Thermostat learns what temperatures you like, turns itself down when you're away and can be controlled from anywhere over Wi-Fi. By programming itself, the Nest thermostat can save up to 20% on your heating and cooling bill. You just have to teach it well.

Programmable thermostats were supposed to help, but 89% of people don't even bother to program them. They're just too complicated. That's why we made Nest simple. It's so easy to use that 99% of Nests have custom schedules.
Nest in Action
We installed the Nest during the holidays, and our meter is checked at the beginning of the month, so you can see our usage compared to last year for February, March and April (when the Nest was installed):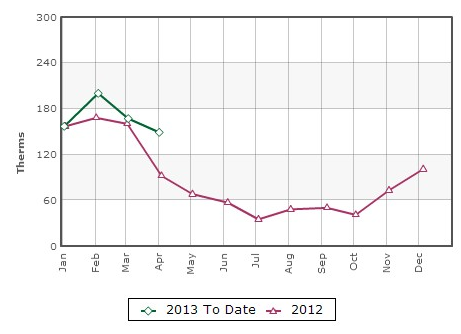 As you can see from the graph, since we installed the Nest in the new year, our natural gas usage is up for 2013. Not very impressive! However, you have to factor in the weather, after all we do live in Wisconsin!
The electric company provides details with the heating degree days (how cold it was, the higher the number, the colder it is) and Therms/Degree Day (natural gas used per degree day). Take a look at the details: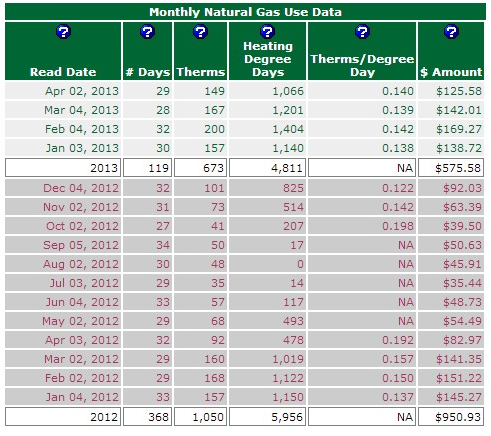 I'm not an expert on interpreting all the details, but it appears by the look of the weather adjusted use, our gas used per degree day is lower than it was a year ago for all three months of the Nest use (February, March and April).
Of course, there are many other factors so it is very hard to isolate the actual impact. In addition, my sample size is way too small to draw any real conclusions.
The Nest Action Plan
We'll continue to monitor our gas bill as the Nest learns our lifestyle. I'm curious to see how it will perform in the summer months! I'm also interested to see if the Nest thermostat will deliver on the promise to shave up to 20% off our heating and cooling bill.
Update: After a year of Nest use, here is our Nest Thermostat Review of Savings: One Year Later!
Do you have a Nest installed? What are your results so far?
---

You can get my latest articles full of
valuable tips
and other information delivered directly to your email for
free
simply by entering your email address below. Your address will never be sold or used for spam and you can unsubscribe at any time.