Posted by
Madison
on August 6, 2008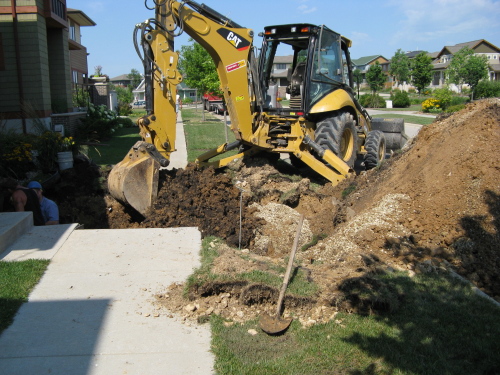 Digging In Our Front Lawn
As you can see from the picture above, digging up the water pipes at our house continues to be the main event this week at the DuPaix house. They found the break in the pipe under the foundation. Water was just pouring out.
The good news is that we had a wonderful builder who graded properly and kept all the water away from our basement. Various contractors commented yesterday that they couldn't believe our house wasn't flooded.
The bad news is that they had to rip up almost our whole front lawn, sidewalks, and landscaping. In addition, we lost the front stoop. They'll be back today to pour new concrete.
We're still uncertain about the cause of the break and who is at fault, if anyone. We have the pipe, and we'll be researching what our options are. I'll keep you posted as it unfolds. We're also a little nervous about the size of the bill…. Always Get an Estimate Before Having Work Done.
To take my mind off the near disaster, I'm busy playing in the The PF Challenge Tournament On Facebook.
Credit and Debt
How to Get Out of Debt – Our Story
See how they paid off more than $50,000 in debt in under four years.
Paying It Off
A family looks for advice on which to pay first: credit card debt or an upside-down mortgage.
Hackers Steal 40 Million Credit and Debit Card Numbers – Has Your Number Been Stolen?
Wow! Watch your statement closely if you shopped at any of the nine stores listed.
Retirement
Ask the Reader: Saving for Retirement Early In Your Career
A 22 year old new graduate is looking for advice. Chime in and share your thoughts.
Don't Give Up On Your 401k
Ideas to supplement a decline in your 401k plan.
Canadian RRSP Vs. U.S. 401(k) Retirement Account Comparison
A great breakdown to find out how retirement planning works across the border.
Your Money
iPhone Finance (Mostly) Apps, Vol. 1
Check out new personal finance applications that you can download to your iPhone.
Lost Money: How Money Drains Add Up To $175,000 In 10 Years
Looks like my lunches out add up to $35,857 over 10 years.
Did You Splurge?
Survey results to find out if people splurged in June and why they did so.
Planning
A Month-Long Menu Plan
Since we won't have our nanny cooking for us in a few weeks, I need to figure out what to feed our family and when.
5 Ways To Calm Your Thinking And Deal With Adversity
My favorite tip is to have a plan B. I'm a big fan of planning, and back-up planning.
25 Sharp Cuts of Time Saving Wisdom
Stop over analyzing things! I'm guilty!
Getting ready for a different rhythm to my life
I have a partner in crime. Although we took two different paths, Father Sez and I will be able to trade tips about our new non-working lifestyles.
More Articles I enjoyed this week:
---

You can get my latest articles full of
valuable tips
and other information delivered directly to your email for
free
simply by entering your email address below. Your address will never be sold or used for spam and you can unsubscribe at any time.