Posted by
Kristen
on April 23, 2014
Moving is an emotional rollercoaster. In many cases, it's exciting and joyous if you're moving somewhere you are happy to be living. It can also be intimidating and nerve wracking if you're moving because of a new job or moving to a new place where you aren't familiar with the area or know anyone. Moving is also a chaotic, busy time since you're trying to pack up and move everything you own.
Whatever moving is to you, the one thing that everyone has is common is that moving can be expensive. The last thing you want to do before settling down somewhere new is be broke because moving cost you so much. So before you end up spending more than you have to, here are some ways to save on moving costs.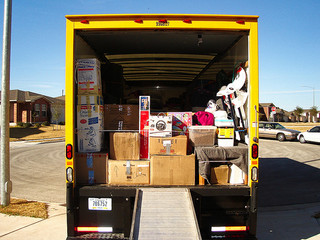 Photo Credit: TheMuuj
How to Save Money on Moving Costs
Declutter before moving.
The more stuff you have to move, the more it is going to cost you. Excessive items mean you'll need more boxes, more wrapping, a bigger moving truck, and if you're hiring movers and they charge by weight, additional items will continue to add up. And if you're being charged by the hour, more items mean more time and more money. Before you move, get rid of everything you don't need. This is my favorite part about moving because you can assess all of your belongings and while you're packing, get rid of the items you don't want anymore. It's also great because when you get to your new place, you have much less junk. Sell items online or have a garage sale for extra cash to help pay for your moving costs. You can also donate items, and get a tax deduction for next year.
Do it yourself.
If you can, consider moving yourself. Moving yourself will require a lot of hard work including carefully and appropriately wrapping all of your items, packing everything securely, taking apart furniture, carrying items to a truck you have rented, driving the truck, and of course, unloading everything at your new place and unpacking and setting everything up. This requires patience, care, and good physical health since a lot of heavy lifting is involved. Consider asking your willing, strong friends and family members who would be willing to help. In turn, you can cook them dinner and also let them take a peek at all of the items you're getting rid of for first dibs.
Use productive wrapping materials.
Instead of purchasing bubble wrap or other pricey moving materials to wrap items, use items you already have and are taking anyway. The last time I moved, I wrapped picture frames, vases, and other glass or delicate items with towels, shirts, and pillow cases. For bigger items like furniture, we used blankets, comforters, sheets, and rugs. Well in advance before you're moving, don't recycle old newspapers or other items that you can wrap things in. Paper towels, tissue paper, or wrapping paper can all be put aside to use for your move.
Find free boxes.
Just like with old newspapers, keep finding boxes in mind way before your move. If you have to purchase boxes, they can actually be pretty expensive. Check with your work to see if they have any boxes you can have for free. Also check with your local grocery store, liquor store, or anywhere else you shop. Ask friends and family if they have any boxes they don't need and to put aside any boxes they might get from getting something shipped.
Shop around for estimates.
Movers are going to cost you much more than if you move yourself, but in some cases it might be worth it or necessary. Movers will move your items safely and efficiently. Unlike you or your friends, they have professional experience so they're less likely to make mistakes, break something, or scratch your furniture. Also, many moving companies offer an insurance policy so if something does break, they will cover it. But if you do decide that hiring a mover is best for you, be sure to shop around. Ask friends, neighbors, family, and co-workers if they can recommend a mover. Check their reputation with the Better Business Bureau and Yelp. Gather rates from a few places to compare who can offer the best price.
Move during off-time.
If you do hire movers, move during an off-time. Just like traveling when it's less common to travel will save you on your vacation, moving during the off-season will save you as well. The off-season is usually September through May. Also, since most people work Monday through Friday, it is common for people to want to move on weekends. Therefore, you can find
cheaper deals during the week. It's also common for people to move the last two weeks of the month so try to schedule your move before that.
Ask your employer for reimbursements.
If you are moving because you are taking a new job, you might be able to get your move reimbursed. Ask your employer if moving costs are paid for by the company.
Keep track of your expenses.
If it is indeed a new job that is the cause of the move, you can claim tax deductible moving expenses. So be sure you keep your receipts and keep track of your expenses so you can use them for a deduction next year.
Things to do Before you Move
In addition, here are some additional things to consider while planning your move:
Change your address with the USPS and have your mail forwarded to your new address.
Be sure to cancel any services you've been receiving at your old apartment or home including utilities, cable, phone, internet, lawn service, garbage removal, etc.
Visit the DMV to get your license changed with your new address.
Let your family and friends know of your new address change.
Change your contact information with your bank, credit cards, doctor offices, and any other bills you have.
Let your employer know you moved by contacting your human resource department.
What are your best tips for moving? How do you save money while you're moving?
More Moving Tips
---

You can get my latest articles full of
valuable tips
and other information delivered directly to your email for
free
simply by entering your email address below. Your address will never be sold or used for spam and you can unsubscribe at any time.