Posted by
Madison
on June 8, 2009
After countless hours studying, late nights, final exams and some parties, now it's time to head out into the "real world"… or at least that's what everyone has been calling it as long as you can remember.
When moving on to the adult phase of your life, be sure to take care of your financial situation. Your actions now will have significant impact on how the rest of your life shapes up financially.
Many older adults look back and say the number one thing they wish they would have done differently was learned about money management while they were young. Here's your chance to jump start your finances!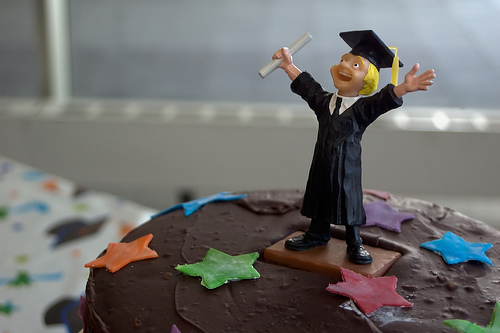 Photography: Graduation Cake Guy by CarbonNYC
Financial Tips for New Grads
Get health care coverage immediately. If it hasn't already, your parent's health care coverage will probably end with your graduation. Get a quote for an individual health insurance plan or sign up with your new employer's plan. Going without coverage could have a devastating effect on your finances if you have a severe illness or accident. Make this the first thing you do… and don't put it off!
Get your own home and auto insurance. Now that you aren't a student, you'll need to get your own auto and renters insurance policies. Start by calling your current insurer, you might be eligible for a discount based on the length of time you've been with the company, but don't forget to shop around to save on insurance premiums.
Save money for your future self. Join the retirement plan at work. If you are young and your company offers it, you may want to explore the Roth 401k at work. In addition to your plan at work, begin saving money on your own for both retirement and other goals. Now may be the perfect opportunity to save a lot and use the reverse savings strategy before you have lots of financial obligations (kids, house, etc.)
Start an emergency fund. Earmark some of your first dollars from your new job to build up a savings account to serve as an emergency fund. You never know when an emergency will hit, but it is inevitable.
Learn about taxes. What? I know, this isn't a fun one. However, hopefully you're going to go from a poor college student to an highly paid worker. With that luxury comes higher taxes. Educate yourself about taxes, and you'll be able to take advantage of incentives and deductions to cut your tax bill. Pay particular attention to the student loan interest deduction and the savers credit for retirement savings contributions.
Begin payments on student loans. Begin paying your student loans right away. Your future self will thank you.
Handle credit cards wisely. Use credit cards carefully to earn cash rewards. Always pay your balance in full every month. If you ran up some credit card debt while in school, begin paying it off aggressively. To save interest while paying it off you may want to transfer the balance to a 0% balance transfer credit card or explore other ideas in how to payoff credit card debt.
Create savings goals. Before you commit your paycheck away, create savings goals. As a new grad, you may want to focus on retirement or a downpayment for a house.
Spend money slowly. It can be very tempting with a new job to buy a new car and rent a fancy apartment. Not so fast! Wait a few months to see how your finances work out. My husband found this out the hard way.
Follow your heart. Did you meet the man or woman of your dreams at school? If so, and you are planning a wedding in the future, don't forget to check out frugal tips for the ring and the wedding.
This article was previously published in June 2008. It is reposted today with updates.
More for New Graduates
---

You can get my latest articles full of
valuable tips
and other information delivered directly to your email for
free
simply by entering your email address below. Your address will never be sold or used for spam and you can unsubscribe at any time.