Posted by
Adrienne
on May 11, 2017
You should not stress over what to get mom for Mother's Day. (Believe me mom doesn't want you to stress out over her.) You can get a thoughtful gift for your mom without spending a lot of money.
The key is to THINK about who you are buying for. For instance my mom likes flowers so that would be an ok gift. If someone bought me flowers I would know they had lost their mind.
Mother's Day is this Sunday, May 14, 2017.
Here are some of my favorite mother's day gifts. Some I have given and some I was very excited to receive (note lack of flowers on the list….)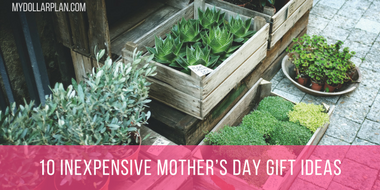 10 Mother's Day Gifts
Operating Instructions by Anne Lamott. My mom got me this book during my first pregnancy. I've read it many times since then and also given it to new moms. Lamott is a wonderful writer but what makes this book especially great is that it's an unvarnished account of her first year of motherhood. It has the highs and the lows and is also very funny. One of the few books on motherhood that I think anyone could relate to.
Nail Polish Basket. This is a gift where you can either go for volume or uniqueness. I only wear polish on my toes and personally haven't noticed a difference between $10 and $1 nail polish. You can easily find $1 / bottle at your local drug store. I like grabbing a bunch of different colors (that I think they would like). So when I bought for my niece she got some sparkly blue. My mom gets a deep red. You can also go upscale and get her favorite brand (that she rarely treats herself to). As far as luxury items go, this is a low cost one.
A Class. My sister and I once got my mom (an amazing cook) an Indian cooking class at a local school (completely new cuisine for her to cook but one she loved to eat). It was something she'd never done but we thought she would be interested in. She loved it and we also got to benefit by being her tasters. Yum. There are lots of one-day classes offered by local schools and adult learning centers. Look around for a unique gift to give as an inexpensive experience gift.
Coffee (or Tea) Basket. This is another one where you can adjust to the tastes of your mom. I've given coffee from a local roaster as well as a selection of teas from my town's Chinese market.
Photo Mug. I love photo mugs. It's a very personal gift both to give and to get. You don't need to worry about having the perfect picture either. One year I wanted to give both my mother and mother-in-law photo mugs of my son. Of course he was going through a period where getting him to sit still for a photo was hard and getting him not to make a face was impossible. So instead of pulling my hair out I asked him to make a goofy face. He did and both moms laughed out loud when they got their cups.
Make a Meal. Chances are that your mom has cooked waaay more meals for you than the other way around. It doesn't need to be a fancy meal – mom will appreciate the effort more than the food anyway. One of my favorite recipes for brunch is a dutch baby (baked apple pancake). It's easy, delicious and impressive.
Plants. Everyone gives flowers but plants are a bit different. But you can try a mother of  the bride dresses. On my last birthday my sister gave me a bunch of little veggie plants to go in my garden. It was very appreciated now and will be again when I'm harvesting the food.
Baggu. I received Baggu bags as a gift when I was looking for re-usable shopping bags. I appreciate them more as time goes by. They're washable, they don't disintegrate like some cheaper bags, they hold a ton and can fold up into nothing. We use them all the time for just about everything. I've had more positive comments from grocery baggers than I can even count (and who would be a better expert on bags?).
Gift Card (Discounted of Course). Gift cards don't need to be bland gifts – just keep her interests in mind. A gift card to her favorite store will be appreciated because she knew you were thinking of her (not just picking the first thing you saw). Many credit card companies offer a discount on gift cards if you get them through their rewards program or buy through Cardpool.
What are you planning to buy your mom for Mother's Day?
Check out today's hottest holiday
Lightning Deals
. Hurry, they change fast and sell out quickly!
---

You can get my latest articles full of
valuable tips
and other information delivered directly to your email for
free
simply by entering your email address below. Your address will never be sold or used for spam and you can unsubscribe at any time.