Posted by
Madison
on January 6, 2016
Five months ago, I signed up for the automated savings tool Digit.
Digit analyzes your spending daily and makes transfers out of your account little by little into your Digit savings account.
Digit takes into account pay days, rent, recurring bills, spending patterns, and average balance. I was intrigued by their math and decided to give it a try.
Almost five months later, I was greeted by this when I logged into my account today: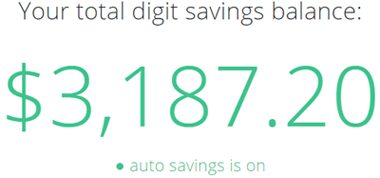 How to Save with Digit
Here are the easy steps to set up a Digit account from How to Find and Save Money with Digit:
Sign up for a new Digit account.
Link your checking account.
Link your mobile number to receive text messages.
Watch your Digit account grow.
Digit Account Overview
No fees.
Your Digit account does not need to maintain a balance.
You're free to withdraw from your Digit account at any time.
Digit supports over 2,500 banks and credit unions within the United States.
Referrals: You can refer your friends and get $5 for each friend.
My Digit Account Statistics
Digit transferred over $3,000 from my checking account to my Digit account since August. Data points are summarized in the highlights:
Total Savings Transfers: 51
Average Savings Transfer: $61
Average Days Between Transfers: 2.40
Total Digit Plus Bonuses: $0.08
In order to make it fun and exciting for Digit, I ran my checking account down to zero multiple times and up to $75,000. My smallest transfer was $4.25. My largest transfer was $116.67.
Digit says that most people see 2-3 savings transfers per week and the transfer amount is typically between $5-$30.
My Thoughts on Digit
Now with Bonuses. Originally, the Digit account earned 0%. They've improved that by offering bonuses of a $0.05 reward for every $100 you keep in Digit for 3 months. I'm not exactly sure my $0.08 bonus is correct based on that calculation, however, since the bonus structure was implemented after I opened my account, it's possible the majority of my funds have not yet reached the 3 month mark and I'll see lots of nickels soon.
No-Overdraft Guarantee Works. To test the guarantee, I purposefully ran my account down to $0 multiple times. There was one issue where Digit was unable to detect that my checking account had a positive balance, but no available funds because of a 4 day hold on a deposit. I sent the data to Digit to help them improve the issue; I'm not sure if it's been resolved or not. They did offer to pay any fees associated with an overdraft (I didn't have any fees though, since I have a line of credit tied to my checking account). It's nice to know that if they do create an overdraft, they will pay the fee.
Pause Your Savings. I paused my account while they were working on the issue above. I learned the hard way that in order to activate pause, you have to specify the number of days. There's no option to pause indefinitely which I find a bit strange.
Entertaining Texts. The texts from Digit are entertaining! I don't want to ruin the surprise, but they did a great job making savings fun. I did find that getting balance updates by text was annoying, so I turned that feature off.
Digit Overall
Overall, I'd have to say I was impressed with Digit. I realize I'm probably not a typical checking account holder, since I have no regular paycheck and I have huge swings my balance because of manufactured spending, various large credit card transfers and an end of year Roth IRA conversion. Since they could figure out my account, they can probably figure out a more typical account.
Digit effortlessly pulled over $3,000 out of my account into savings. I plan to leave it there until it's enough to fund my Roth IRA for the year. How's that for an easy way to fund an IRA for the year?
Have you used Digit? If so, how much have you saved so far? What do your transfer statistics look like?

---

You can get my latest articles full of
valuable tips
and other information delivered directly to your email for
free
simply by entering your email address below. Your address will never be sold or used for spam and you can unsubscribe at any time.