Posted by
Madison
on October 21, 2009
ETFs versus index funds, which is better? Yesterday we determined what is an ETF?
In the overview, Jill mentioned that ETFs usually have lower expense ratios and are ideal for a one-time small investment that you will hold for a long time. They're also good for trading a large group of assets at once. However, you have to account for the trading commissions both when you buy and adding money in the future.
That's great… but just how do we actually figure out which one will have the lower cost in any given situation?
ETF and Index Fund Calculator
Luckily, Vanguard makes it really easy for us to compare the costs of an ETF or an index fund with their ETF calculator.
For example, I mentioned that I was moving a chunk of an old 401k to Vanguard this week. It's $50,000 and I'd like to put some of it into the Vanguard Emerging Markets Index (VEIEX). Let's compare it to the Vanguard Emerging Markets ETF (VWO).
The index has a 0.39% expense ratio and 0.25% purchase and redemption fees. The ETF has a 0.27% expense ratio and I would normally pay $7 per trade using Scottrade.
ETF and Index Fund Comparison
Compare a $50,000 investment over 20 years adding $5,000 per year, in the example outlined above, and the ETF is lower cost option, saving $5747. Here's what the calculation looks like: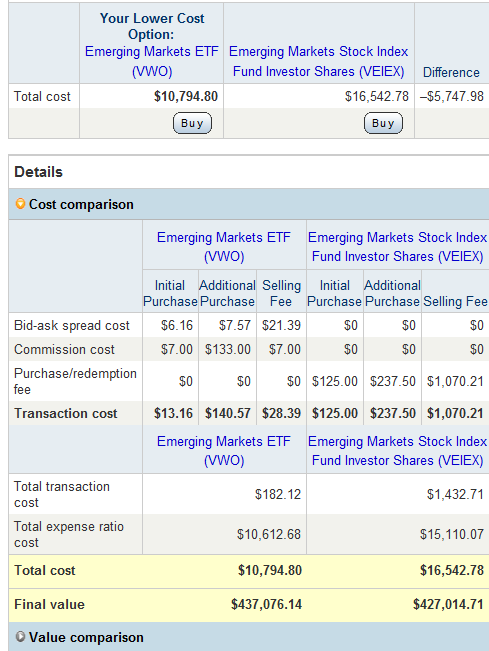 More ETF Factors
When you use the calculator, you'll have to account for the following variables:
Free Trades. In the example, I used Scottrade. However, there are lower cost broker options like TradeKing and Zecco. Depending on which broker you are using, your results will vary.
Rebalancing Your Portfolio. One of the things that the calculator doesn't take into account is the need to rebalance your portfolio. You're going to have to determine how often you do this and the effect it will have on the expenses in your portfolio if you are using ETFs instead of index investing.
Admiral Shares. Once you have $100,000 in a Vanguard fund, you get admiral shares with lower expenses. You'll have to compare the admiral shares to the ETF too, to make sure you're still getting the lowest cost.
In the example with the emerging markets index, even if you compare the admiral share class (VEMAX), which has a lower expense ratio of 0.27%, the ETF still is the lower cost option, in large part to the purchase and redemption fees.
However, when you look at the total stock market, like when I started a young family member in a Vanguard ETF for her Roth IRA, the ETF is lower cost for the same example above, but the Total Stock Market Index Fund Admiral Shares (VTSAX) is the lower cost option using the admiral shares. This is mainly due to the difference in expense ratios. The total stock market index fund (VTSMX) has an expense ratio of 0.18% compared to the ETF (VTI) at 0.09% and the Vanguard Admiral Share class at 0.09%.
Action Plan
Right now, I'm still using index funds for the majority of our portfolio. However, after doing some research with the emerging markets ETF, I'm considering using the ETF for a portion of our portfolio going forward.
Do you use index funds, ETFs, or a combination of both in your portfolio?
More on Investments
---

You can get my latest articles full of
valuable tips
and other information delivered directly to your email for
free
simply by entering your email address below. Your address will never be sold or used for spam and you can unsubscribe at any time.